When I decided this summer that I wanted to get into backpacking, the Wonderland quickly floated to the top of my list of potential trips. A 93 mile trek around the base of Mount Rainier, it largely points up or down, with a gain over 22,000 feet of elevation through varied terrain.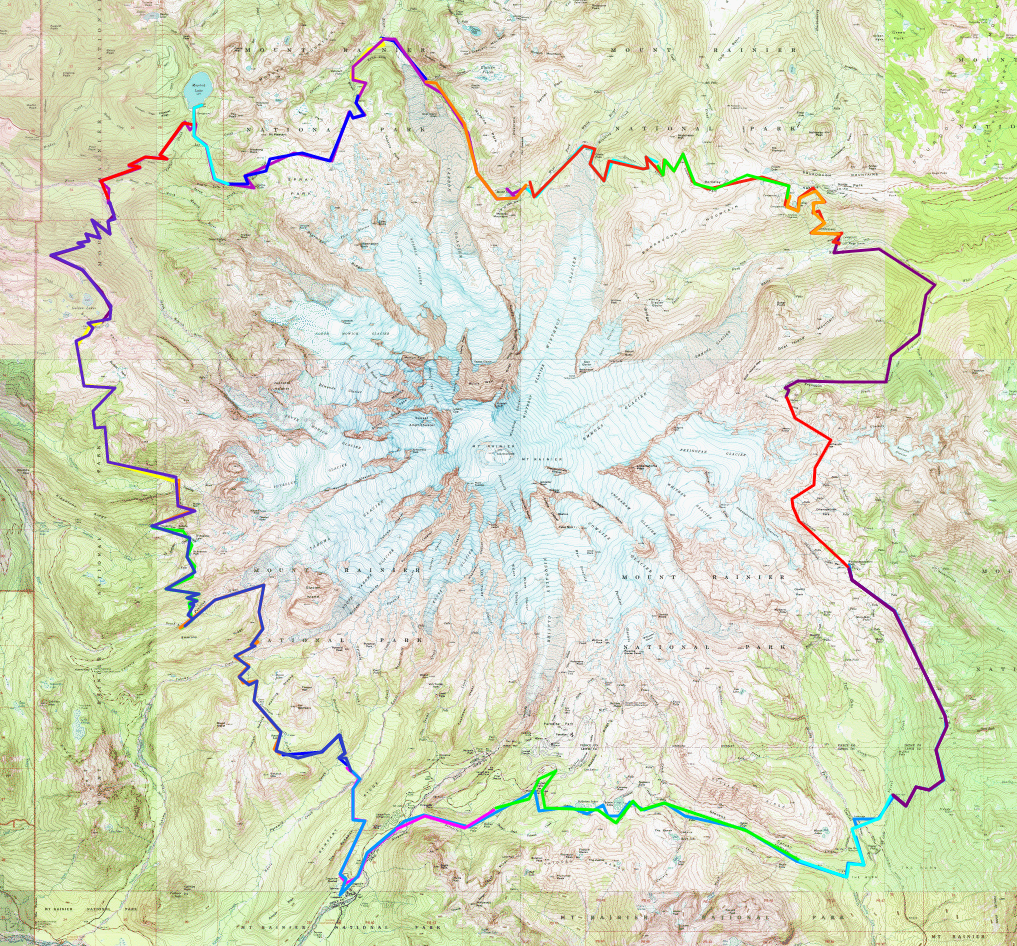 Despite being a pretty demanding trail, the biggest hurdle for some is just getting a permit. The Parks Service gives out roughly 70% of available permits through a lottery system every spring, with the remainder reserved for walk-ups.
Since most people take 9-14 days to complete the trail, the majority want to get a permit, particularly during the high season, to make sure that they'll have well-spaced campsites (Wonderland hikers have to stay to specified camps). But, as I was going in September (pretty late in the season), and felt I could complete it in as few as 5 days, I figured I'd have enough flexibility to walk up and get a good itinerary.
Preparation
I've only been on a handful of overnight backpacking trips, so making sure my gear was sufficient was my primary concern. A bike tour through the San Juans earlier in the summer not only got me interested in trekking, but also got me focused on lowering the weight of my kit. I pored over lightweight backpacking forums to get gear recommendations, and even ended making some of my own gear to shed ounces.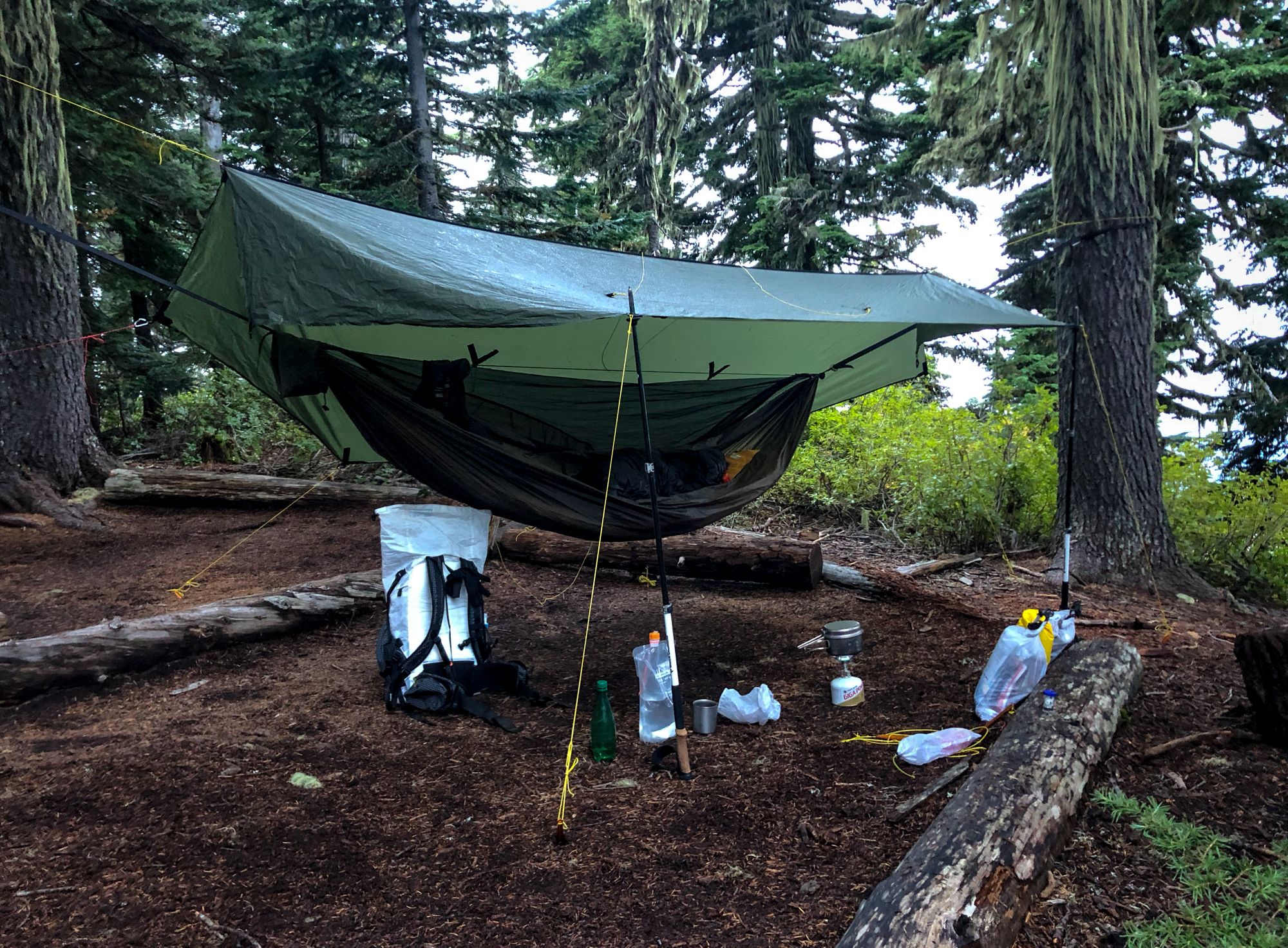 One unique choice that I made was to use a hammock instead of a tent. I bought a camping hammock for my trip to the San Juans, and slept really well in it, but there was a lot of skepticism online about whether hammock spots could be found in the camps on the Wonderland. My backup plan was to sleep on the ground under a tarp, which I'd never done.
Many people recommend reading books about the trail and studying up on what to see, where water is, campsites, etc. I figured most of that worry comes from concern about ability to cover ground; since I wasn't as concerned about that, I spent most of my time worrying about gear, and figured I'd just deal with the trail as it came.
Sometimes you know what you don't know, and for me that mostly had to do with what my actual speed would be, and that guided much of my prep: shed weight to gain speed; use speed to mitigate problems. Overall I would still contend "less weight, more speed" is an effective strategy, but it has its limits, as I came to discover.
Day 1 - White River to Mystic Lake
Monday

12.0 miles

3700' ascent

2600' descent

3.0 mph moving speed

2.8 mph net speed
I had a few things I needed to do that Monday morning of my trip, so I couldn't leave until noon at the earliest. I considered delaying my start to Tuesday, but then figured I'd have enough time to make it to one of the closer campsites and get a full day on Tuesday.
I rolled up to the ranger station around 2:45 and discussed my options with the ranger on duty. There are two ways to hike the trail: clockwise, which is most popular, and counter-clockwise, which is less popular. I'd created ideal itineraries for each, as well as created a table with distances between campgrounds and elevation gain in each direction to help me puzzle out my options. I'd realized in some early planning that you could end up with segments that looked good distance-wise, but included massive amounts of climbing. So my chart was a gut-check against a hasty decision that could ruin my trip.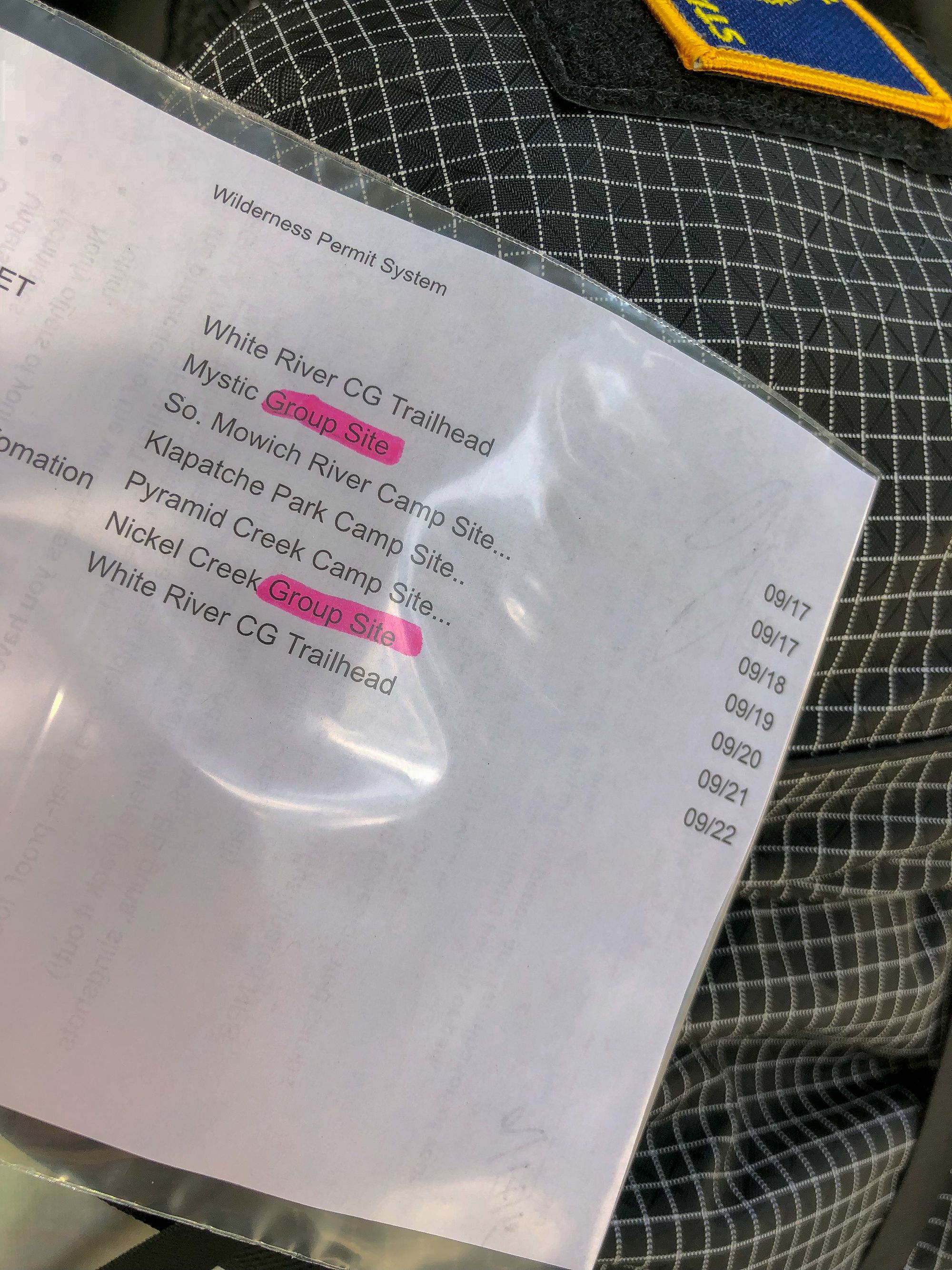 Fortunately, my CCW option was mostly doable, so that seemed like the best bet. My only concern was that I was running out of daylight to make the 12 mile hike to my first stop, Mystic Lake.
No closer campground was open, so my only alternative was to camp at the trailhead and start in the morning. The ranger assured me that it was only 10 miles, which would leave me just enough time to make it there with a little time before sunset to make camp. Since he was the expert I figured it was all good, and booked the permit.
As I was leaving, he asked if I was going to leave from White River, or drive to Sunrise and save the final 2000 foot climb for the end of my trip. This option had never occurred to me, but climbing 2000 feet at the end of a six day trip sounded like a bummer, so I chose White River.

Getting started
At 3:15 I hit the trail, and immediately felt good about my decision to purchase trekking poles. Much like cross-country skiing, the poles gave a little extra pull on the uphill and quickened my pace. By the top of that first hill up to Sunrise I'd easily met my 3mph goal, and was on track for camp.
I got to thinking, as I made my way towards Frozen Lake, that part of doing this trip was remembering to do the things I'd always meant to do. I'd always meant to do more backpacking, but had never gotten around to it; part of why backpacking had suddenly captured my imagination this summer was keeping promises to myself.
My moment of self-reflection was soon forgotten when some day-hikers coming the opposite direction, banging sticks, informed me that they'd seen a cougar in the next field. It suddenly occurred to me that I hadn't done any research into dangerous animals. That lack of research felt like it was literally coming back to bite me.
Somehow I managed to survive the next mile of trail as day-hikers from Sunrise took my cougar warnings as a suggestion to go looking for man-eating cats. As with all the sections of The Wonderland near a major visitors center, there are a lot of day-hikers near Sunrise. That can be a drag in some areas, but Sunrise is really beautiful and wide open on a clear day in the saddle between Burroughs and Fremont mountains. Some Japanese tourists were even nice enough to take my picture.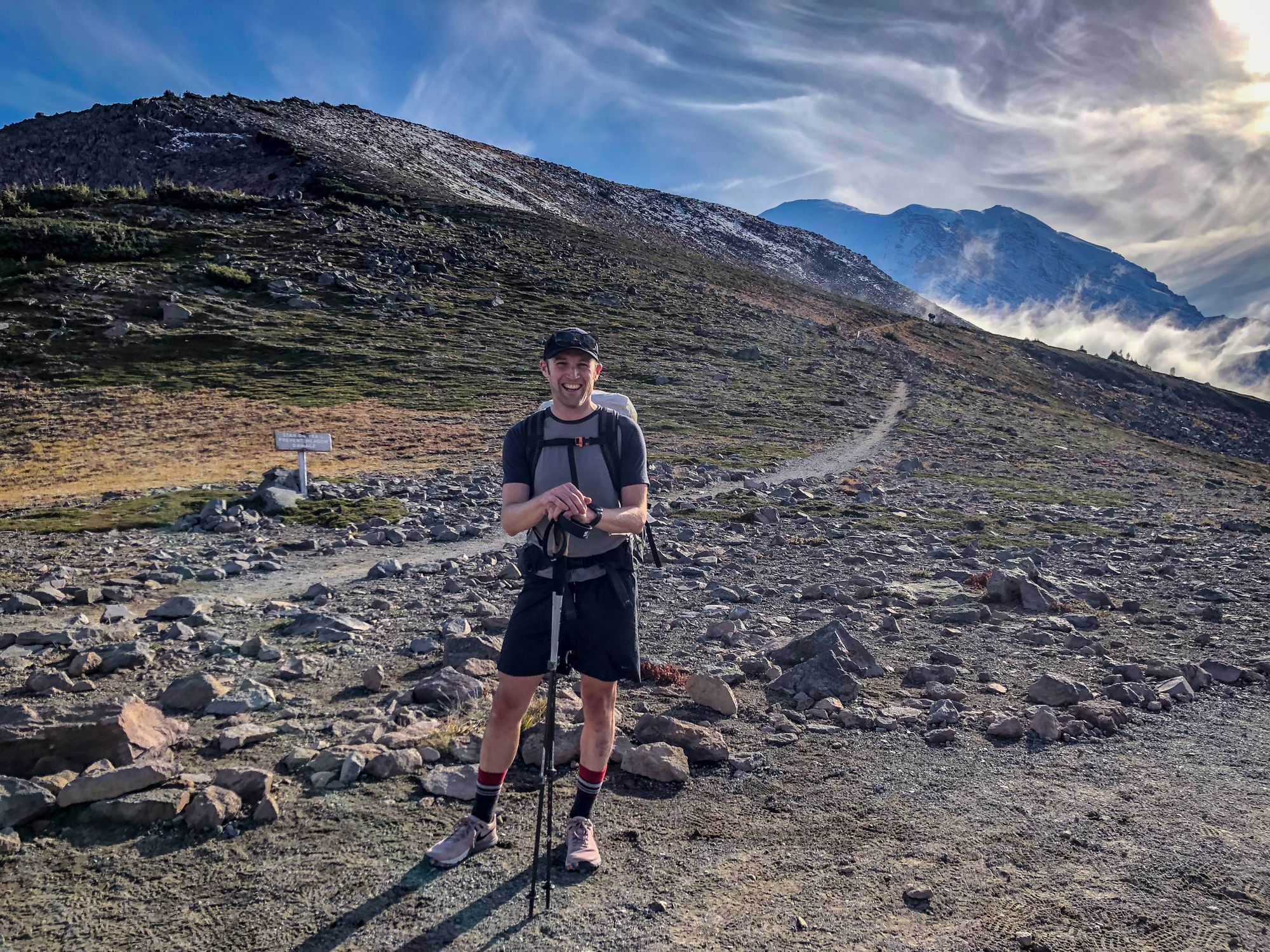 I had hoped to hike the Northern Loop in preparation for The Wonderland, which intersects at the junction in that area, and I think it'll definitely be on my list for next summer.
From there I left the day-hikers and went through Skyscraper pass, which introduced me to the rapidly changing weather conditions on Mount Rainier. The visibility went from clear to fog in a matter of minutes, and I missed out on what are supposed to be great views.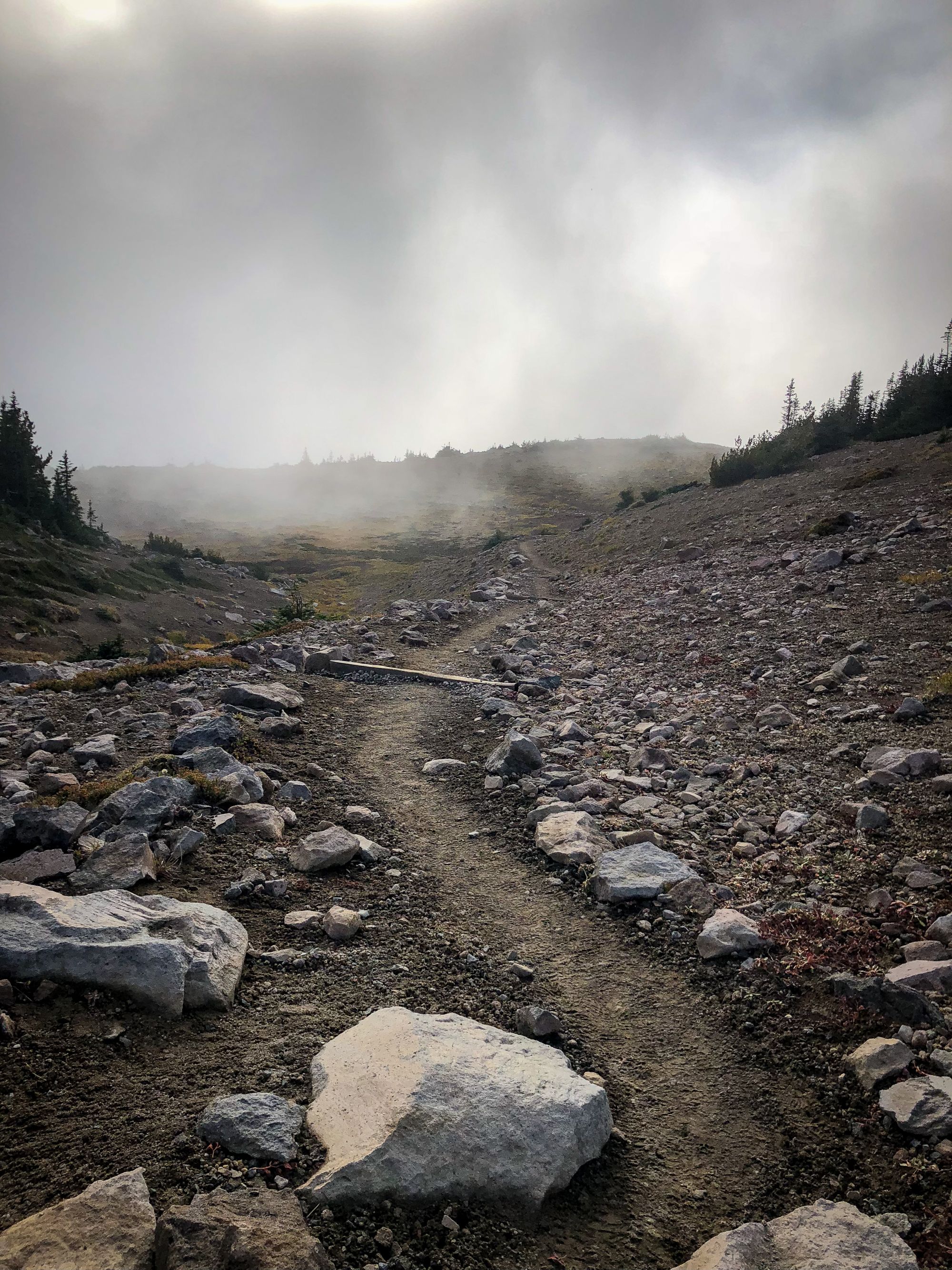 As I got down towards Granite Creek, a few things began to dawn on me. First was that the ranger's estimate was incorrect, the distance to Mystic Lake was actually more like the 12 miles I'd originally calculated. Second, was that it was going to be very close whether I'd make camp by sunset at 7:15, and third, the ranger's 10 mile estimate had assumed I was leaving from Sunrise. All three were bummers.
I made my way through the fading light to Mystic Camp right around 7:15 pm, and proceeded immediately to setting up my hammock. Fortunately I was in the group campsite, so I had plenty of options. Things were getting dark fast, and my two slices of Veraci pizza from lunch were still holding me down, so I decided to go to sleep without dinner.
Not a great first day, but far from a disaster. I figured I'd learn from my mistakes in day two. Besides, I'd covered 12 miles on day one starting at 3:15 in the afternoon. How hard could 18 miles be with a morning start?
Day 2 - Mystic Lake to South Mowich River
Tuesday

19.0 miles

4000' ascent

6900' descent

2.5 mph moving speed

2.2 mph net speed
Determined not to end up chasing daylight again, I got up early on Tuesday intent on getting out of camp as soon as possible... and nearly two hours later I finally had eaten, struck camp, and packed. Still, 8:40 am seemed way earlier than 3:15 pm, so I figured I was good.
Mystic Camp is down in a gully, but a quick hike up the hill out of camp brings you to Mystic Lake, which offers a picturesque setting to with views of Carbon Glacier. I paused there to take off my warm clothes, and then went to the patrol cabin to get the latest weather report, which had upgraded Thursday through Friday's bad weather to include high winds.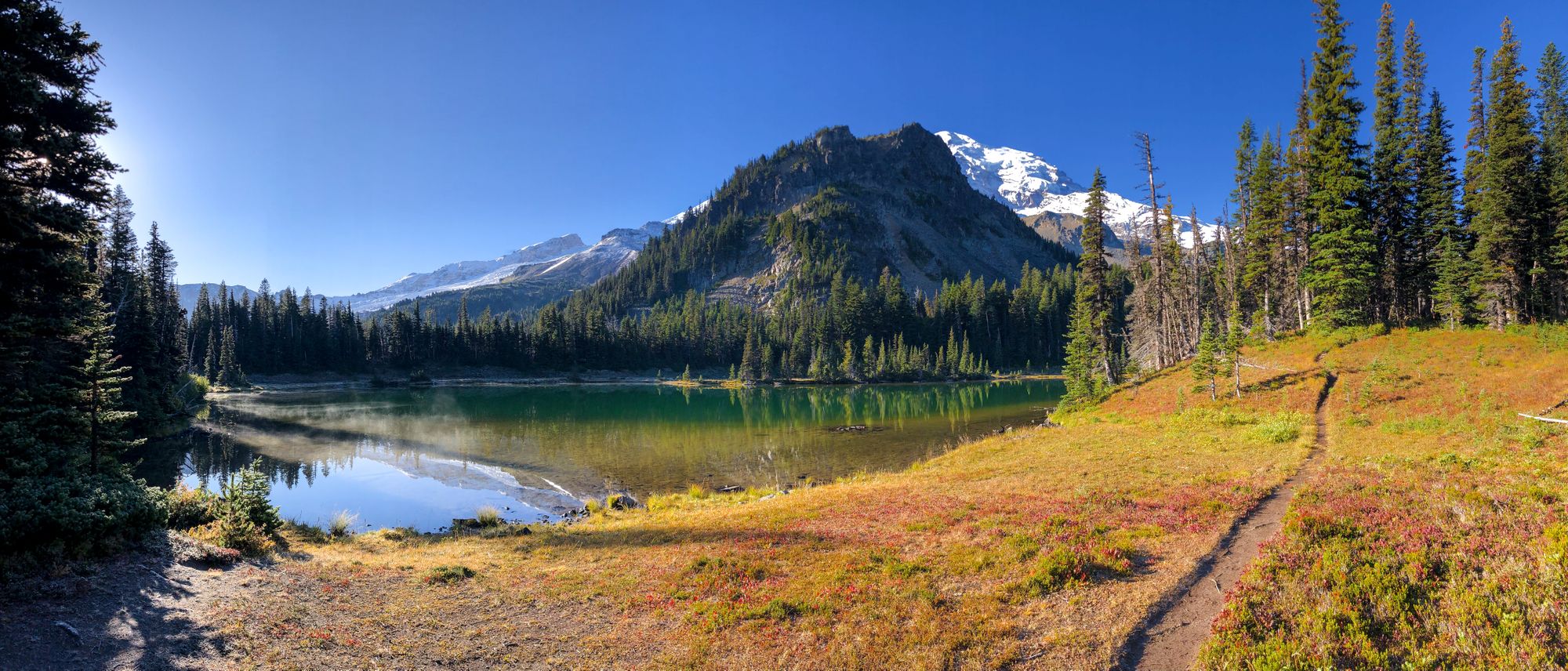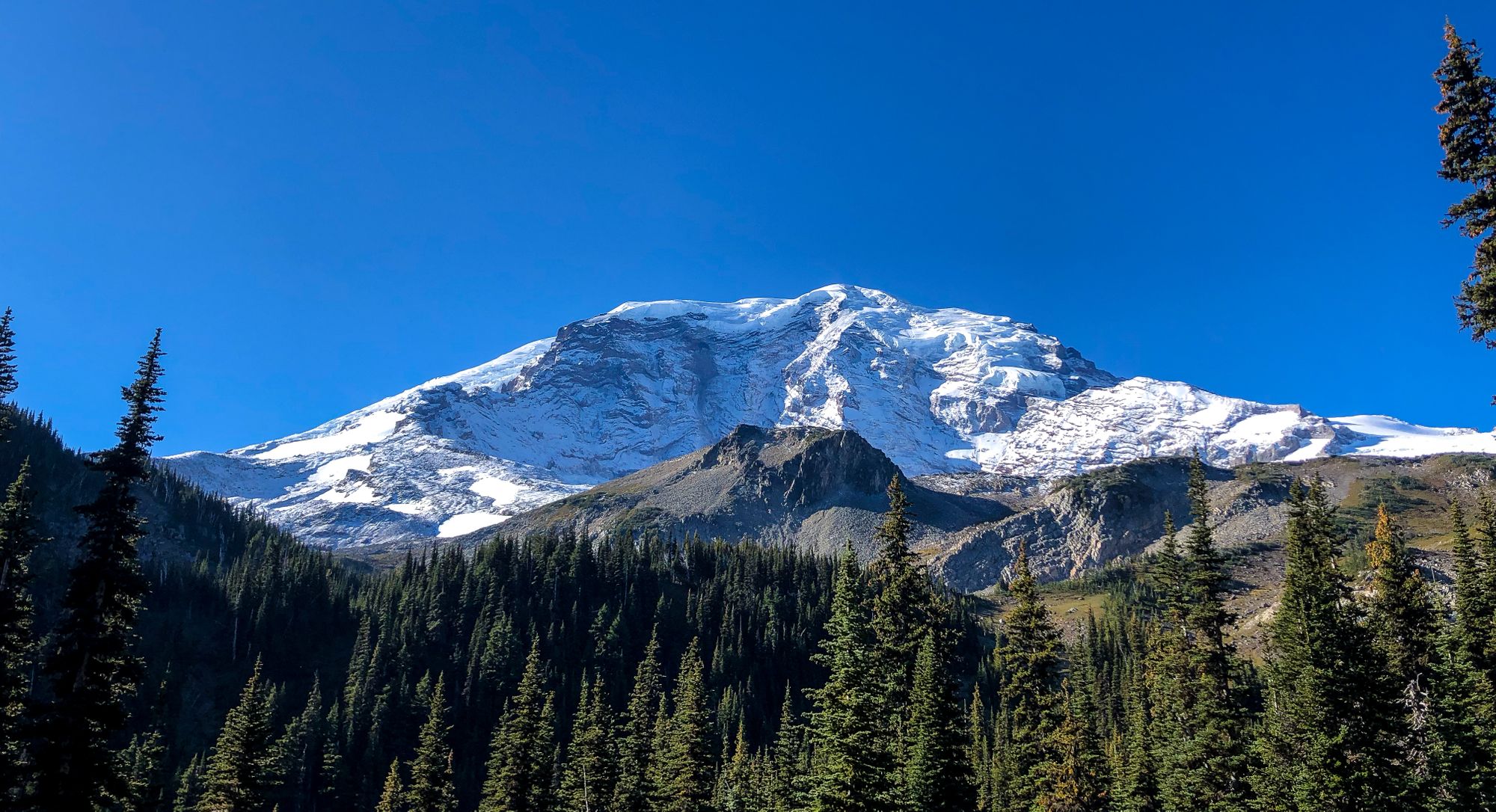 From Mystic Lake I crossed Old Desolate and descended along Moraine Creek and the Carbon Glacier Moraine. Once you get down by Dick Creek and can finally look back up the moraine, you get a sense of just how massive the debris flow is.

When I was finally done descending, I'd lost some 2800'. I crossed a suspension bridge over the Carbon River, and then it was time to gain back 3000'. I'd decided to take the Spray Park route, which is technically not part of the Wonderland, but is generally regarded as being both more difficult and more beautiful.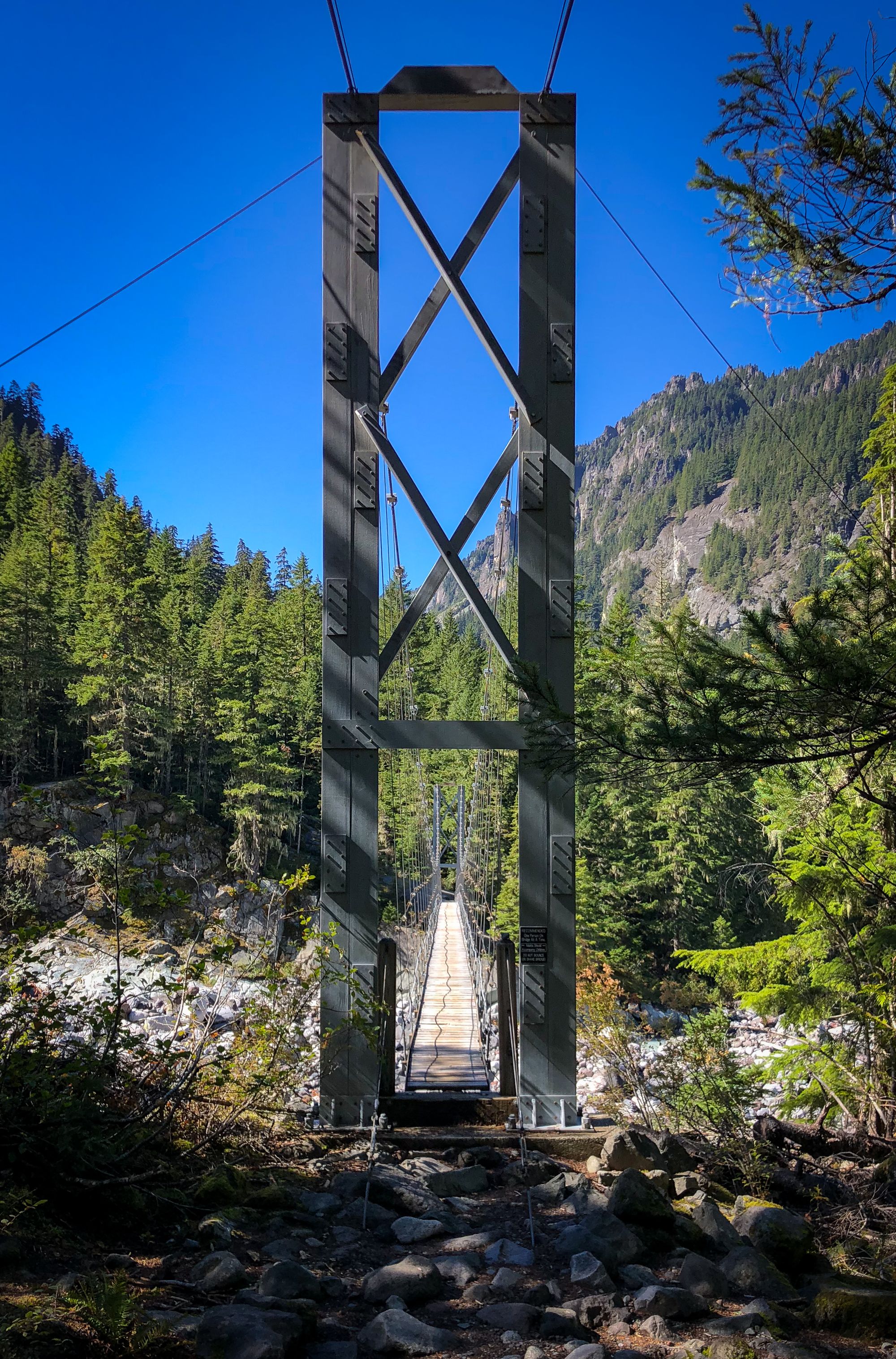 I felt like I was behind schedule, so pushed at the beginning of the climb to make time, but after an hour found that I was burning myself out. I slackened the effort as I passed Cataract Valley Camp, and further eased up as I passed Seattle Park.

The views of Mist Park were really stunning, and picking my way through the Flett Glacier Moraine I saw my first marmot of the trip.
Spray Park was really socked in with clouds, but it was still quite beautiful, and I saw my first bear off in the distance. Descending down, I stopped to check out Spray Falls, and then skipped the crowds of Mowich Lake to hasten getting to camp at South Mowich River.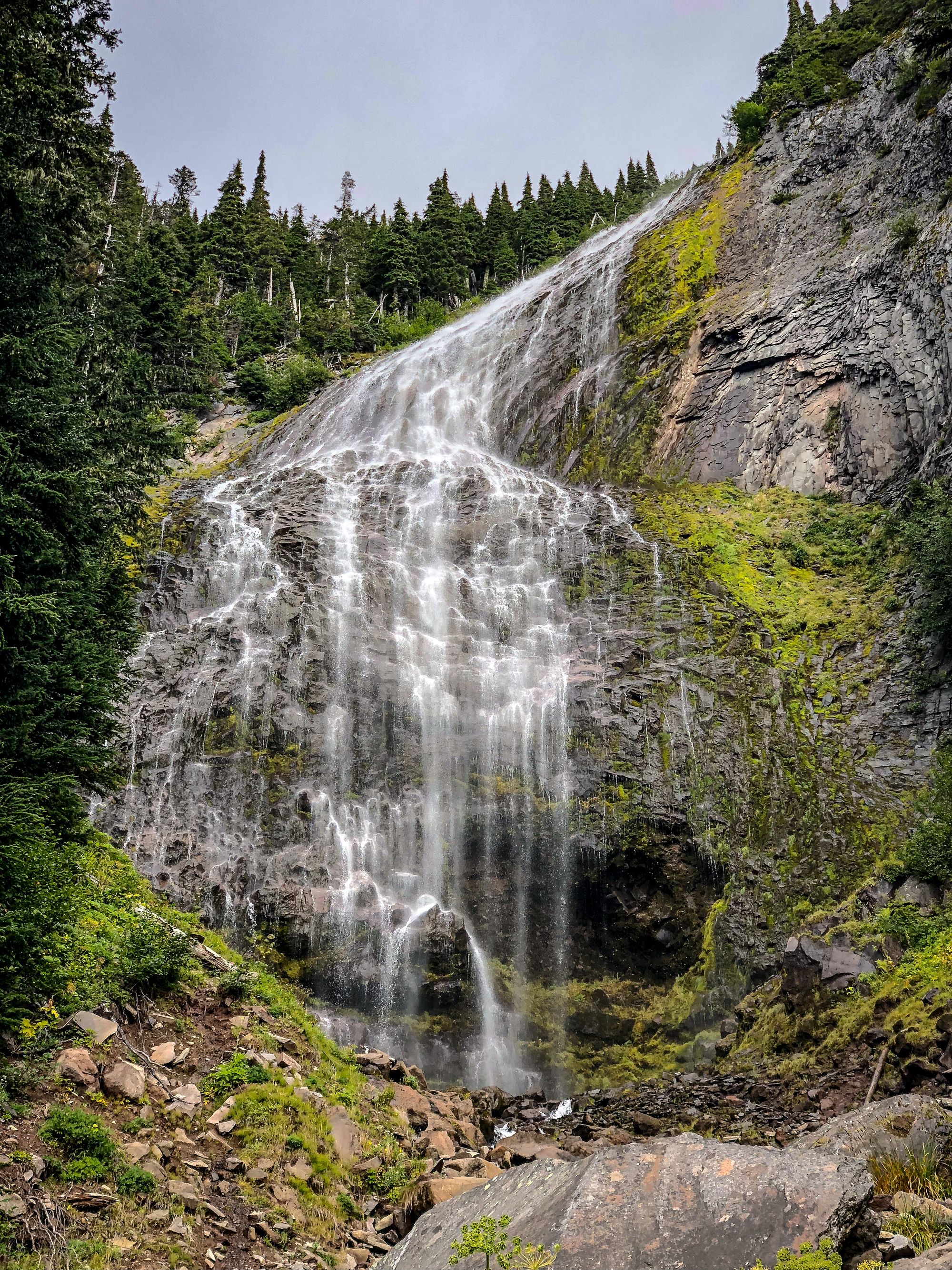 Things turn grumpy
Fortunately, I'd had the sense to look at days with massive elevation gain skeptically and tried to avoid them, but I still didn't fully have a sense of what a "big climbing day" was, and how it would affect my pace. The climb through Spray Park had really taken a lot out of me, especially with my full pack, and had left me, again, late in the day with a lot of hike left to go.
I rolled into camp around 5 pm, which was fine, but later than I hoped, and I was wiped. Fortunately, there was a shelter with a hiker already in it, and he invited me to join him for the evening.
I meet my twin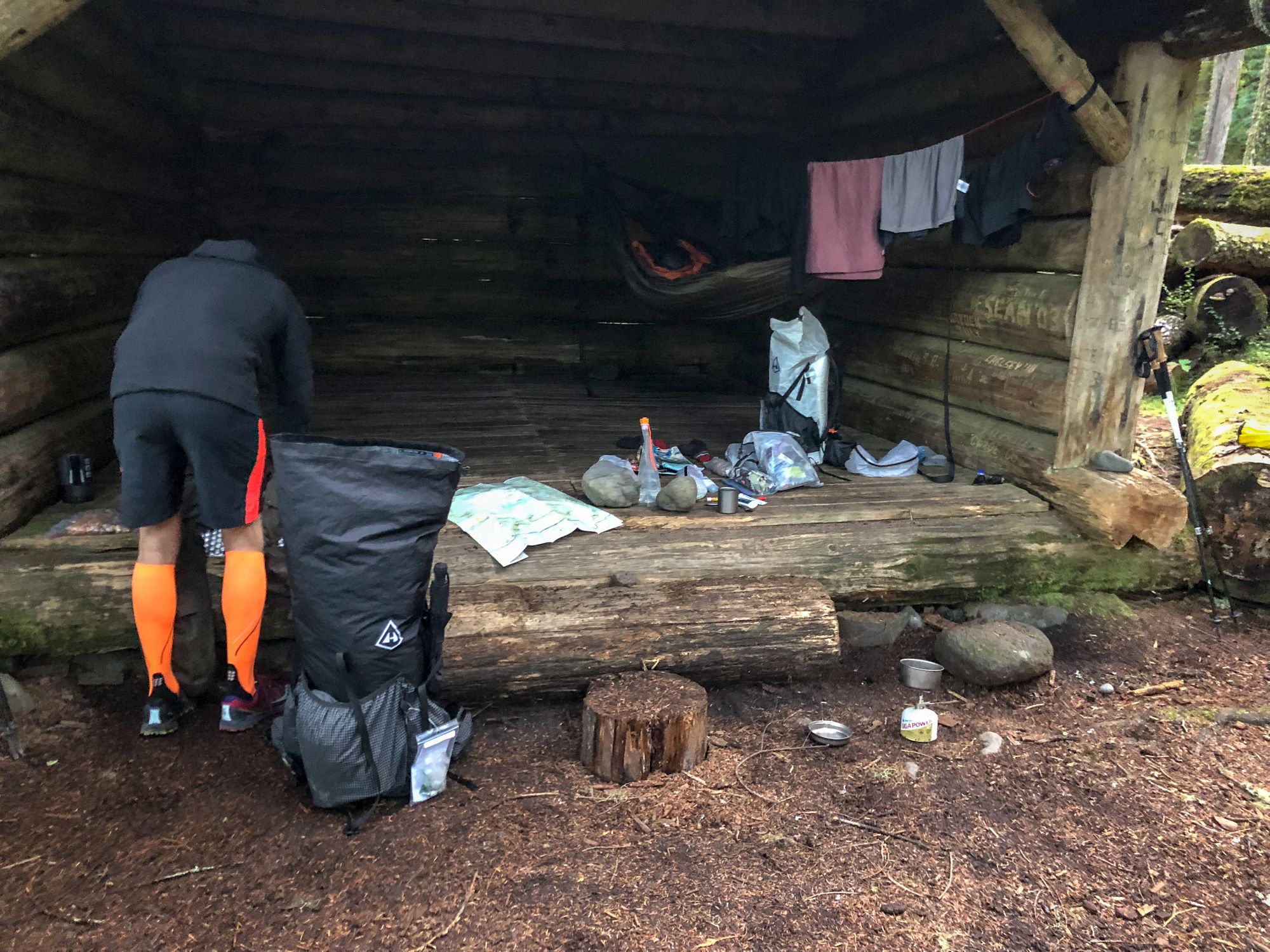 Apparently I wasn't alone in deciding to take up backpacking, picking a fairly difficult trail to start, and scouring the Internet for lightweight equipment. Wes, the hiker in the shelter, had cobbled together an eerily similar kit to mine. Most of our differences were things that I'd considered as a second choice, and some of the things I'd made he simply bought.
An ultra-runner from the Oregon coast, Wes had done backpacking years ago, and had recently decided to take it up again, completely re-outfitting himself in the process. He was taking one more day than me to do the trail, and that was seeming like a good call, as he was in a great mood, while I sat in a daze with my cooked legs.
I slept pretty well that night with my hammock strung in the shelter, but I was beginning to have my doubts about completing the trip.
Day 3 - South Mowich River to Klapatche Park
Wednesday

15.1 miles

4700' ascent

1900' descent

2.5 mph moving speed

1.9 mph net speed
When I woke up, Wes was happily getting on his way. His plan each day was to eat minimally while he struck camp, hike for an hour, then stop to make coffee and eat. While he worked I sat on the edge of the shelter and boiled water, wondering if my sore legs would carry me through the next four days.
Wes was traveling clockwise, so we planned to meet up somewhere on the east side of the mountain on Saturday... should we both still be out there. Between my legs and the weather, I had my doubts.
Knowing that days three and four would be significantly easier than day two, I figured I'd at least have a shot at recovery before the weather turned south later in the trip, and as I started my hike and made my way across the South Mowich River, I found that my legs starting to feel significantly better as I got going.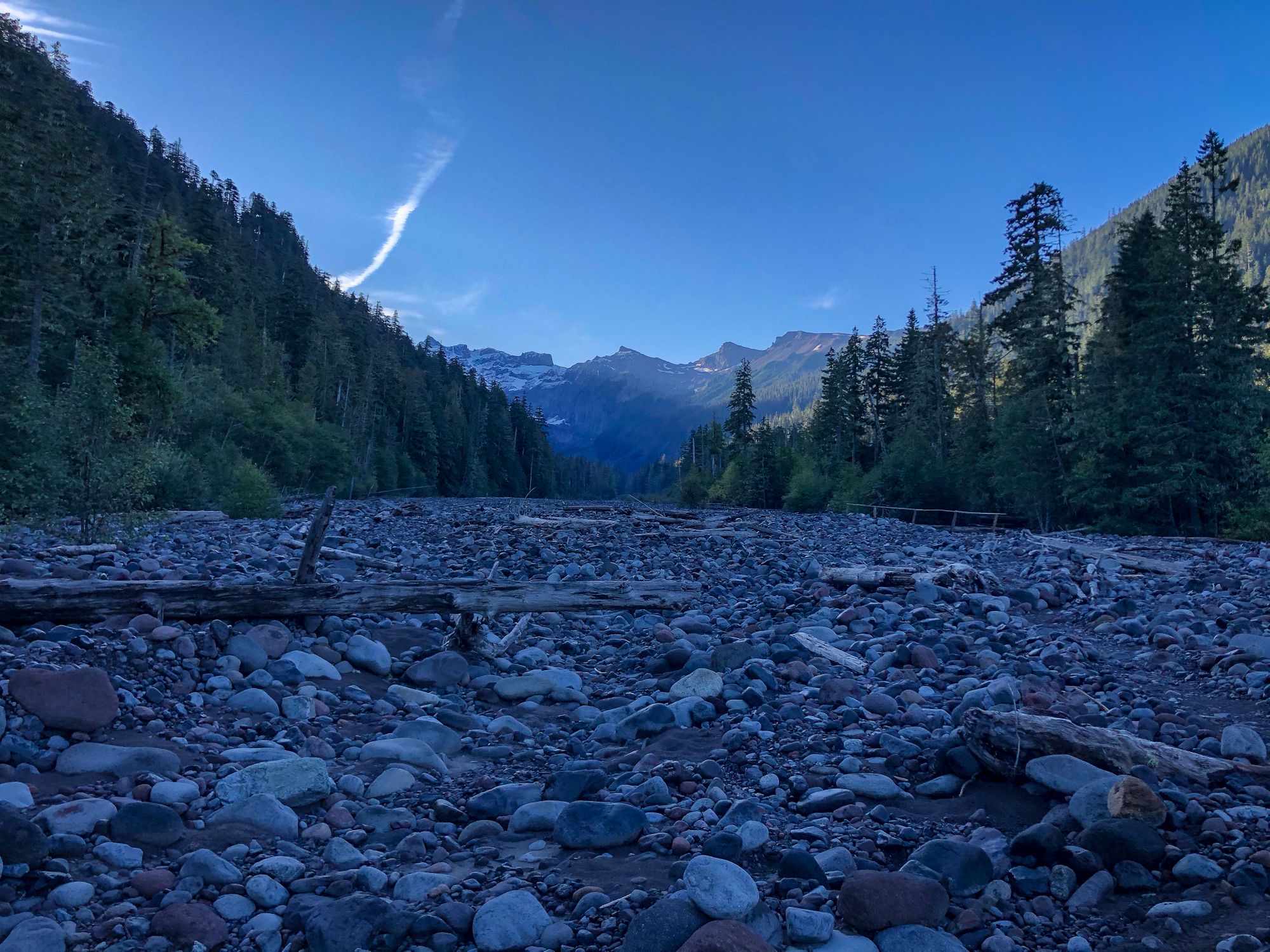 Did you know: You can stop when you hike?
After crossing the river, I had a long 2500' climb through old growth forest towards Golden lakes. Despite the elevation gain, the going was easy, and I hit the lakes feeling great about my prospects for the day.
The weather was good and the lakes were deserted, so I took the opportunity to lay any wet clothes out to dry in the sun, and began what became a daily ritual, by soaking my legs in the lake.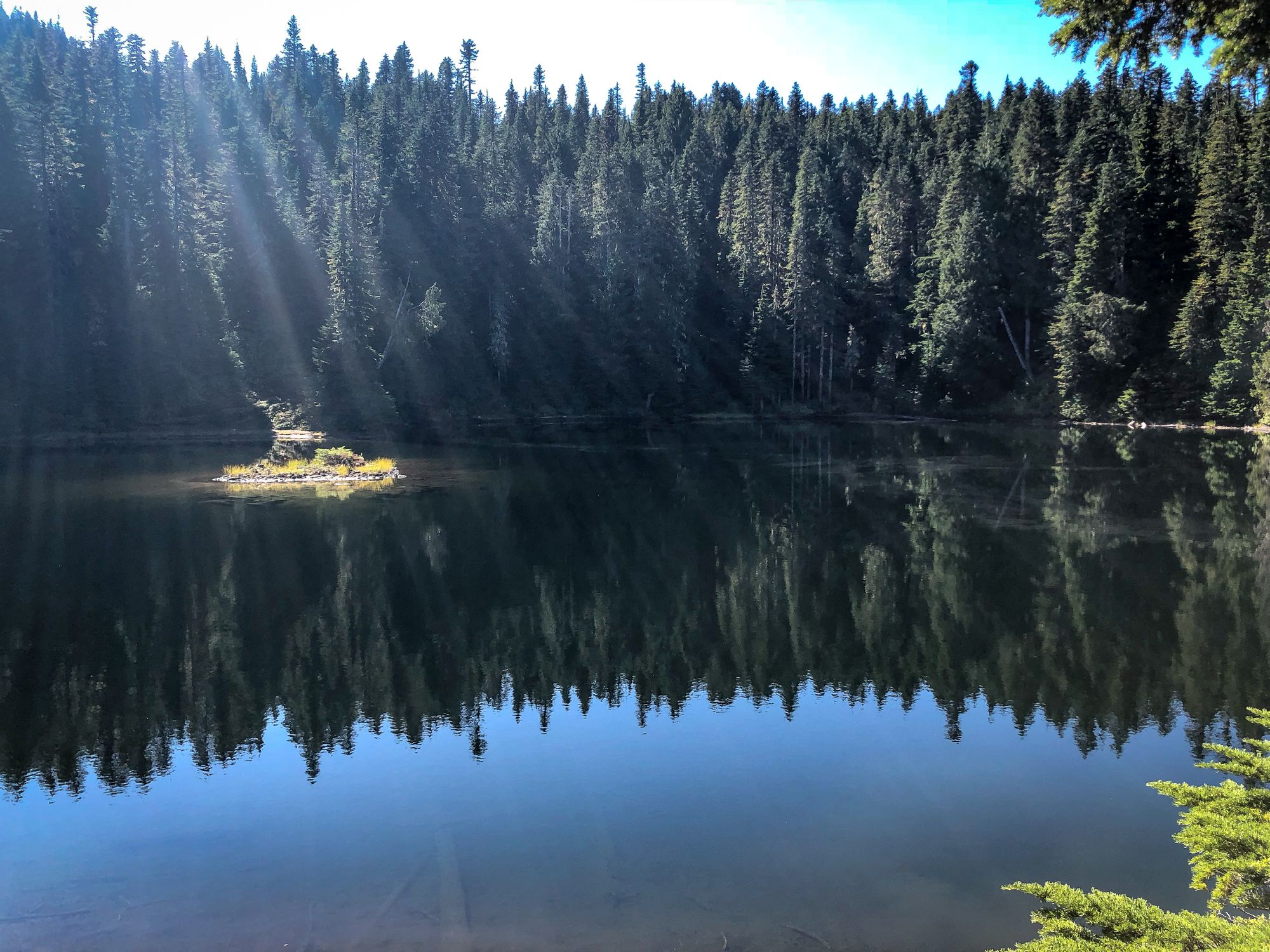 I left feeling really refreshed, and started my descent to the North Puyallup River. About a mile after the lakes I entered a clearing and saw some hikers stopped ahead. I called out to them, and they gestured towards a bear's ass entering the woods.
I stopped to chat with the hikers, a father and son, and they mentioned that they'd seen a large bear at Klapatche Park, my destination that evening. It was the second time I'd heard about this bear, which apparently had decided to spend the season at Klapatche. While I was getting mildly more comfortable with the bears, it still worried me a little that I'd be sleeping in an area with a resident bear.
The weather was great, and I continued on my descent towards the North Puyallup River. About halfway down I decided to stop for lunch by a sunny creek. Wes had mentioned that he was eating hot meals for lunch, so given that I had extra time, and an extra hot meal, I decided to change my strategy of eating lunch on the move. It was a good break.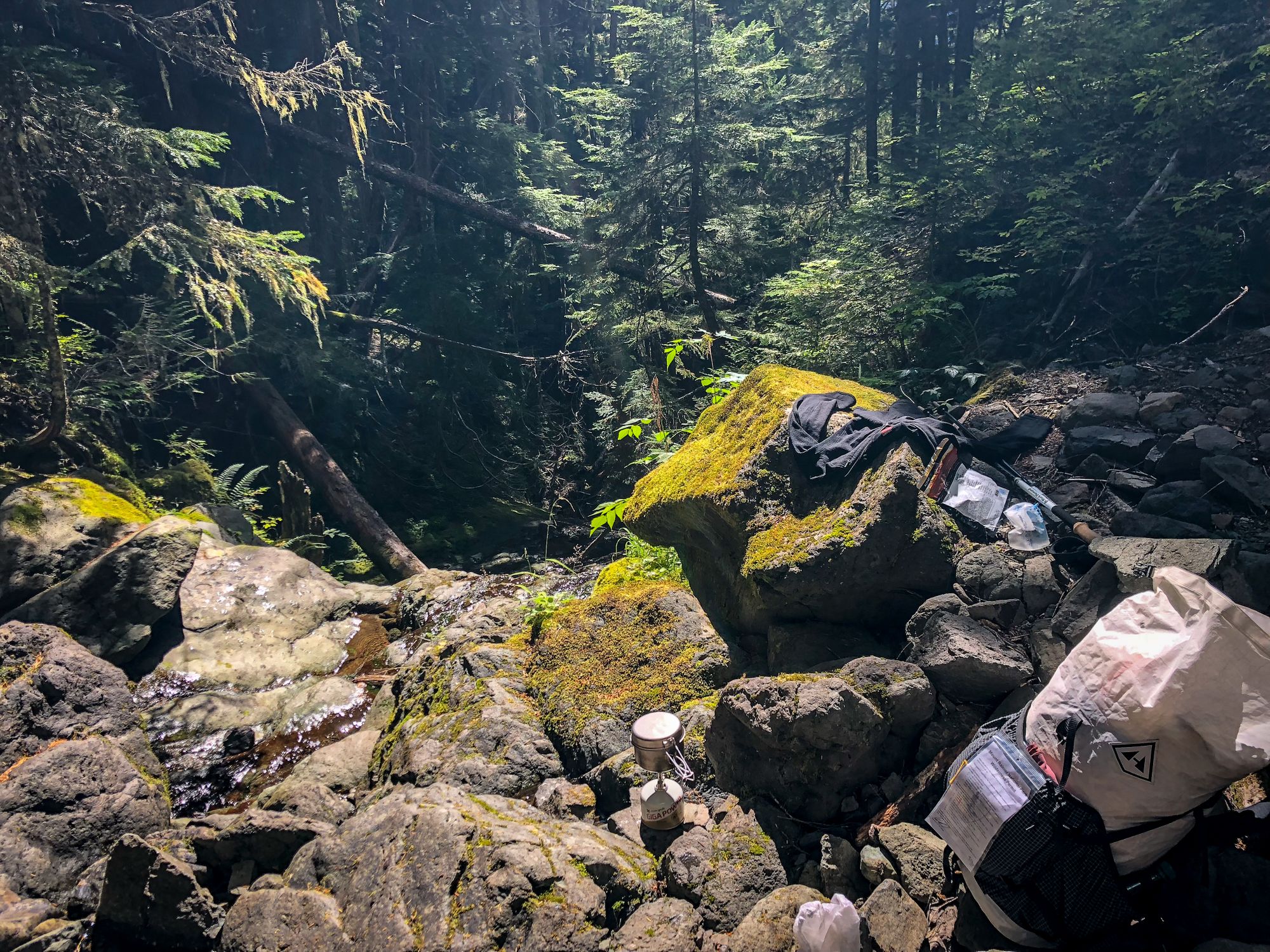 Who's afraid of bears? (A: this guy)
From the river there's a pretty steep climb up to Klapatche Park. At its base I met two high school age guys doing to trail together. They were quick to mention that they'd just seen a large bear in Klapatche that hadn't gotten out of their way. The said they'd had no choice but to pass within 30' of the bear, which ignored them as it went along scavenging for food. One of the guys clearly shared my view of bears, as he described it as "the biggest black bear" he'd ever seen. His friend, on the other hand, didn't seem phased, and told me black bears were "just big kitty cats."
The sky was clouding over as I made my way up to Klapatche Park, which sits around 5500'. I spent the whole climb weighing the various assessments I'd heard of bears. I knew my fear was irrational, but I was still nervous. About halfway up I ran into ranger in full garb, looking a bit like a young Matt Damon. I couldn't help but feel a little silly with my worries as he confidently assured me that bears were nothing to worry about if you make noise and hang your food.
I made my way up, and as I reached the park I scanned around looking for the bear. Not seeing him, I wandered into camp and found three women setting up their site. They were nice, and having them there made me feel better about staying there that evening. Whether true or not, I figured they'd seem like better snacks than me.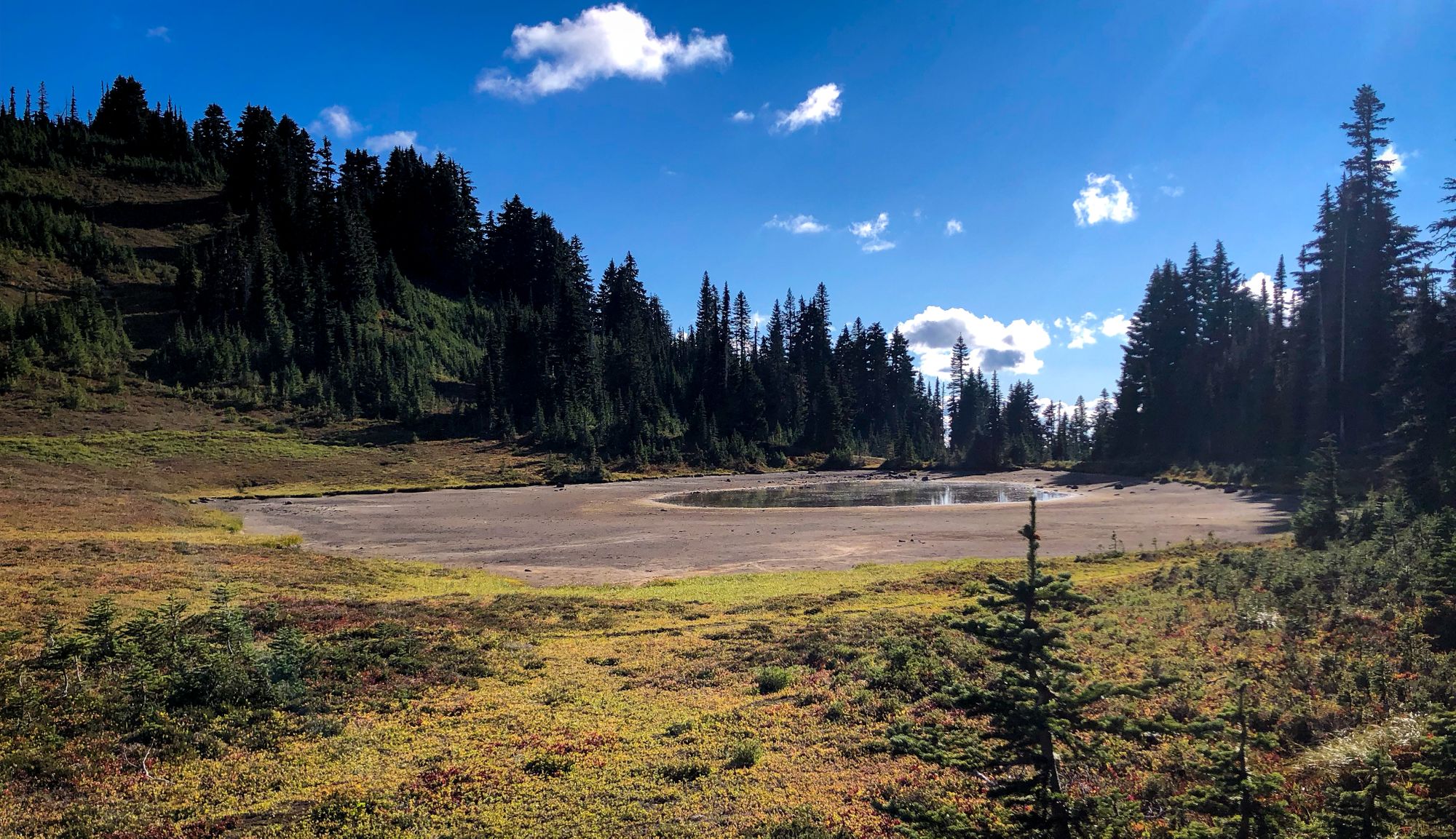 Wes had stayed at Klapatche the previous night, and said he'd suspected there was a great view there hiding behind the clouds. I optimistically arranged my hammock to have a perfect view of Liberty Cap, should the clouds clear in the morning.
During the night I heard what I think was a bear crashing through the woods. Whatever it was made a lot of noise and sounded big. It didn't really phase me, though, so I guess I did a good job of confronting my fear.
Shortly after, I heard a bear bell echoing, for a what seemed like 45 minutes, along the trail. Wes had said that when he started out at Longmire there had been a team preparing a runner to make an attempt on the Wonderland record, which stood at just under 19 hours. I suppose it must have been the runner. Searching now, I don't see that the record was broken, or that anyone was eaten by a bear. So he was at least halfway successful.
Day 4 - Klapatche Park to Pyramid Creek
Thursday

14.3 miles

3100' ascent

4900' descent

2.4 mph moving speed

2.0 mph net speed
Thursday morning I finally felt like I was starting to find a rhythm to the trip. The views from my hammock never materialized, but my legs felt good as I made breakfast, and struck camp.
Starting out through St Andrews Park was a real treat. The clouds briefly parted, giving me a clear view of Liberty Cap for long enough to snap a selfie, then closed back in. It didn't bother me, though, as St Andrews Lake as beautifully moody with the clouds.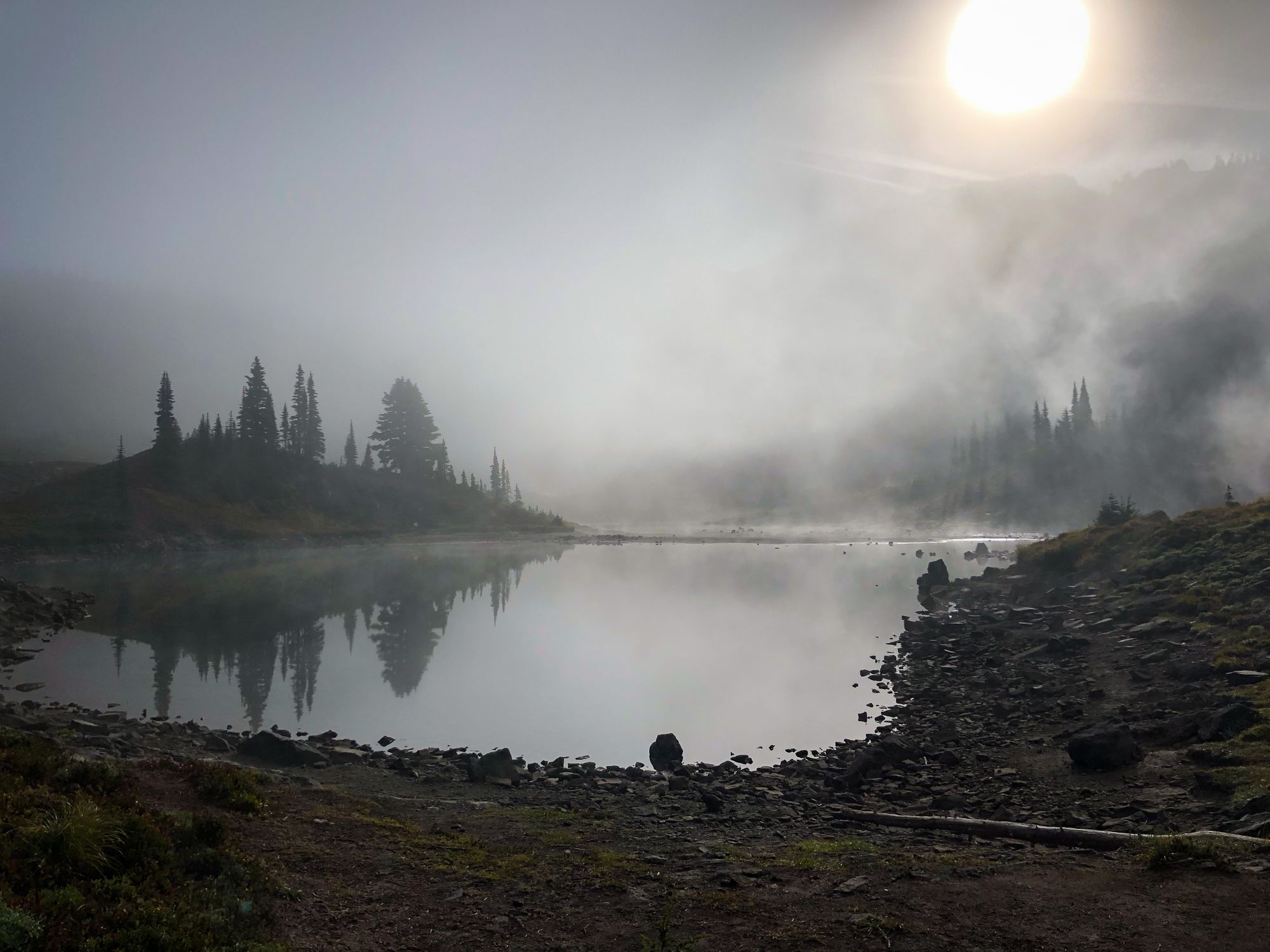 As I started to descend towards the South Puyallup River I ran into some German backpackers making their way up. They had huge packs and looked gassed, but told me I was coming up on a beautiful stretch through Emerald Ridge. They weren't wrong.
At South Puyallup Camp, I took a suggestion from a family I'd met at the beginning of day three, and followed the signs for the pit toilet. As promised, to the south of the trail were hexagonal andesite columns that formed when hot lava hit the Tahoma Glacier and cooled quickly.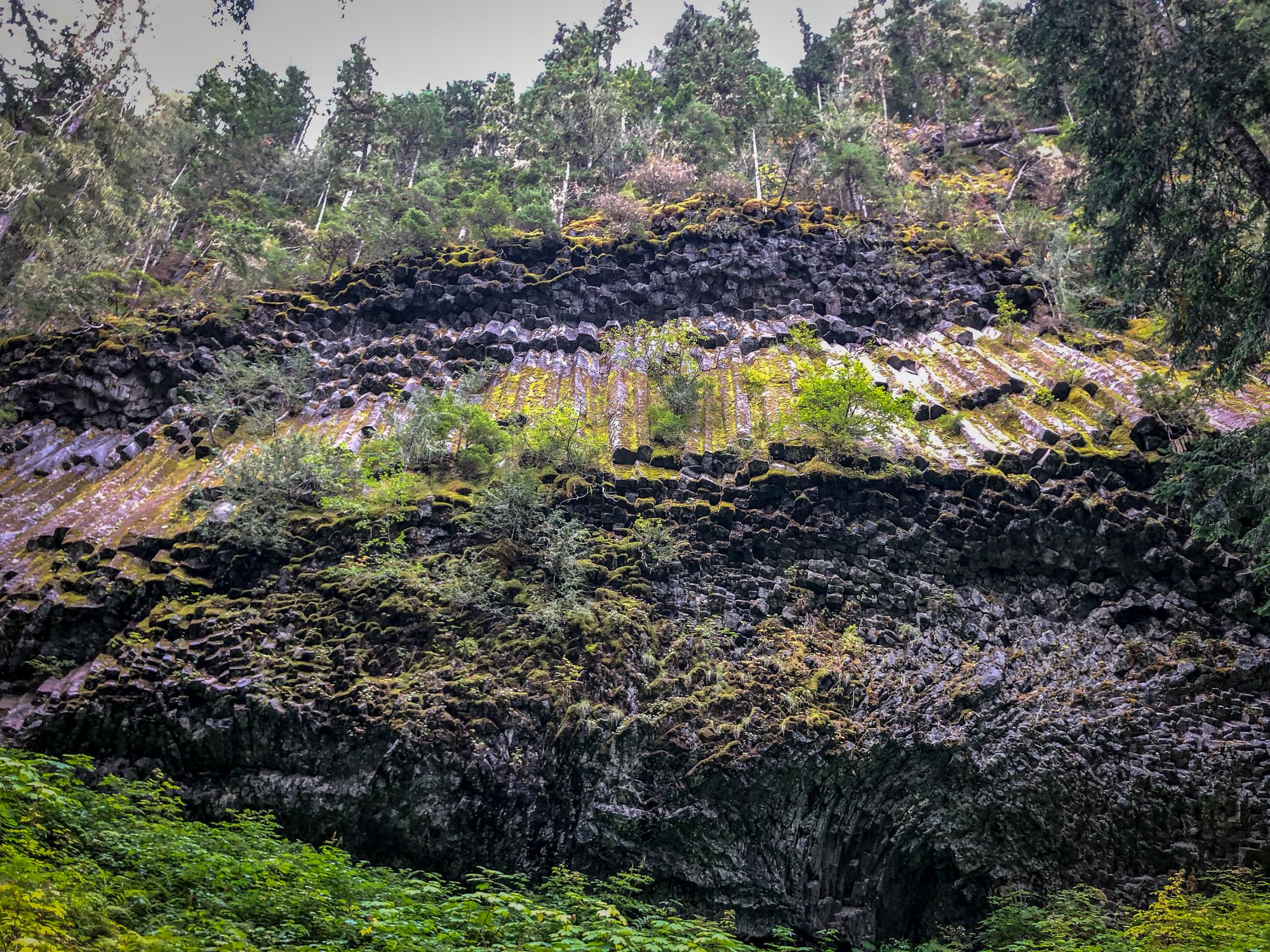 As I turned around I spied some bright red behind a mound, and discovered what happens to the pit toilets. Later on I was speaking to a ranger and discovered that rangers have their own campsites at many of the camps. I spotted more of these refuse piles during the trip, and it began to give the park a bit of a Westworld feel.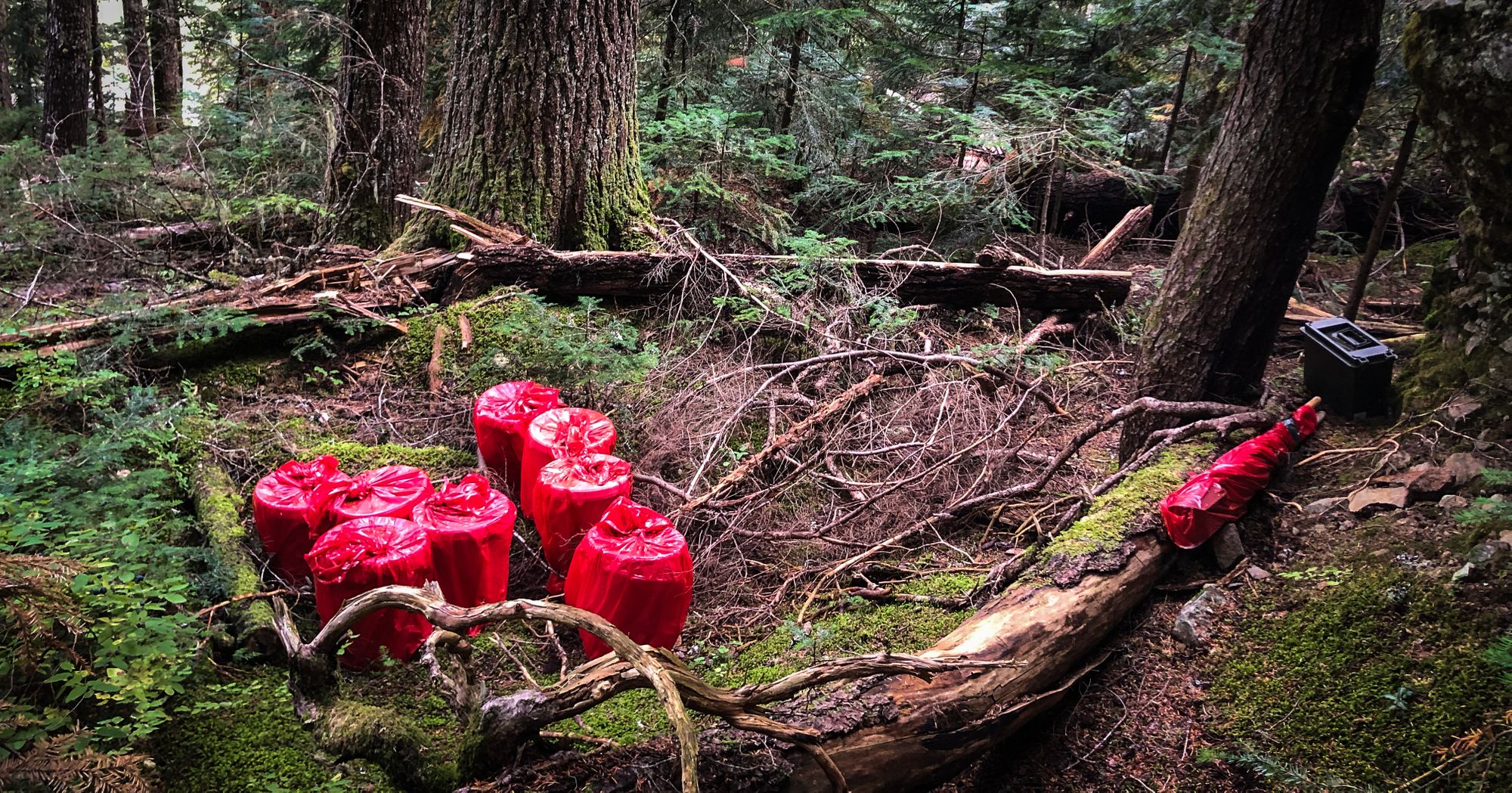 Emerald Ridge
Leaving the river and climbing up Emerald Ridge, I was treated to impressive views of the Tahoma Glacier Moraine. I was disappointed later to find that pictures of it and the adjacent South Tahoma Glacier Moraine do not do either of them justice, which, I suppose is good, as it makes them even more worth the trip. The Emerald Ridge is lousy with marmots, and the ground almost seems to move with them. Overall it's a place I think I'll return to on a shorter trip.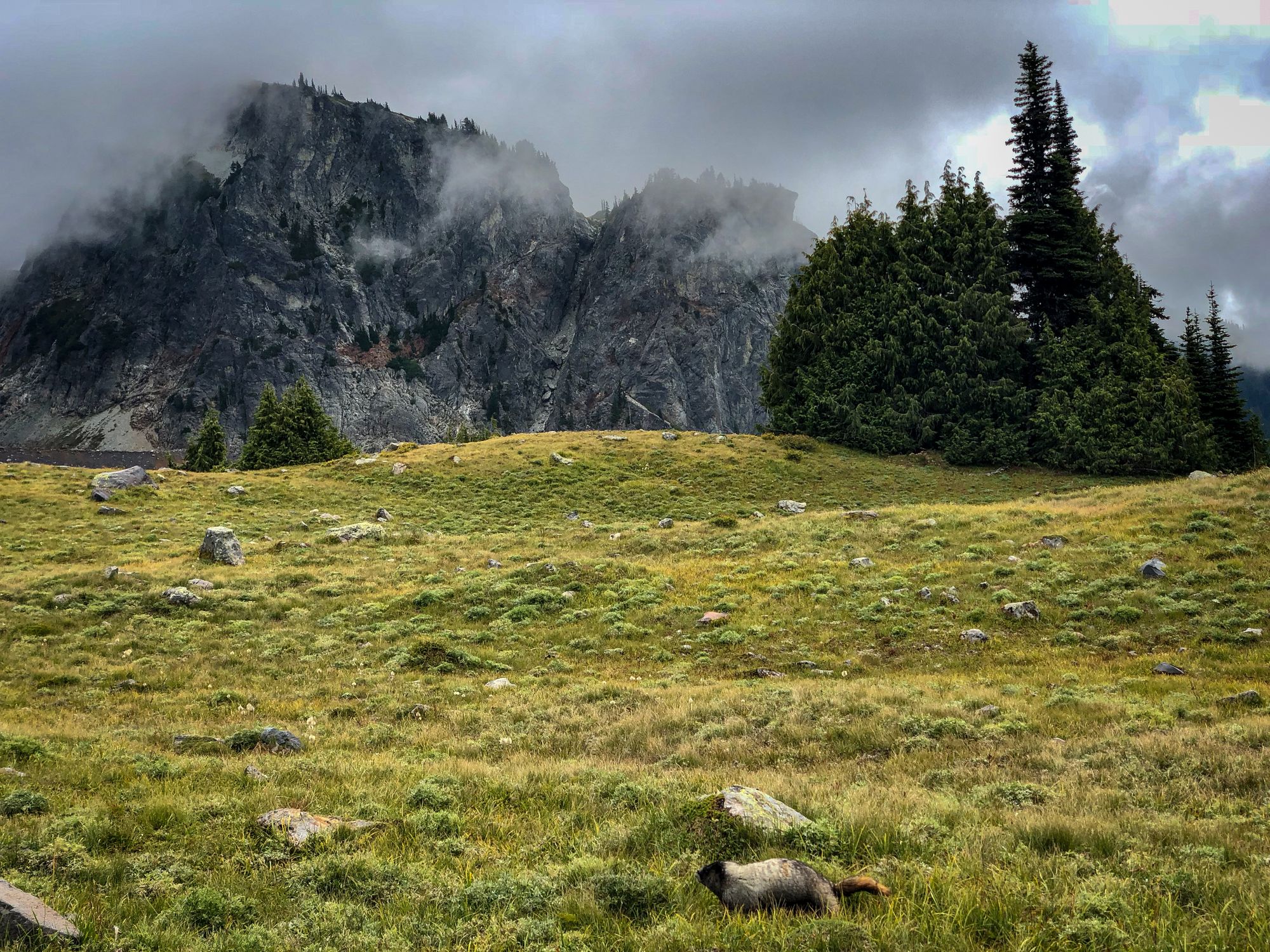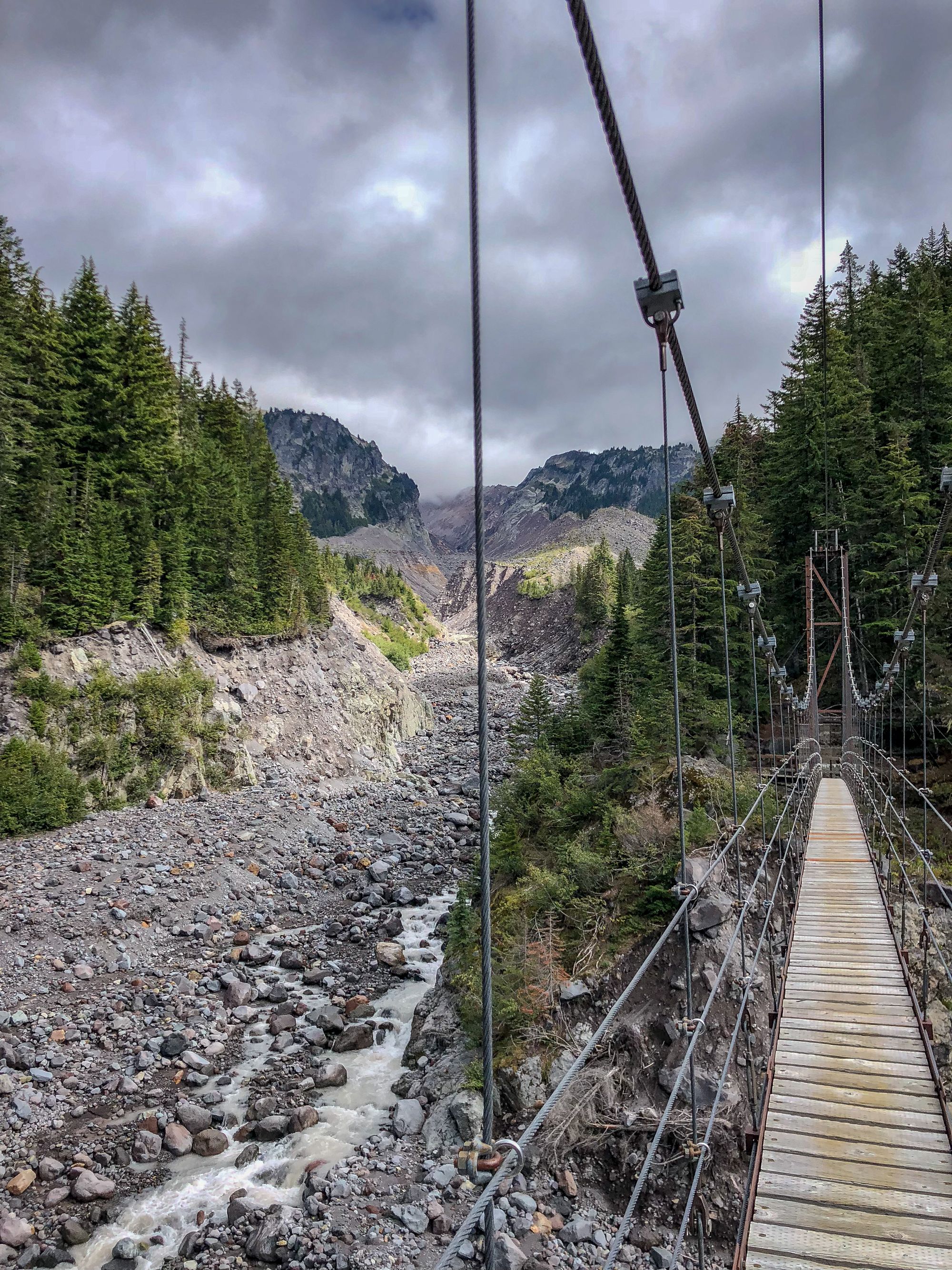 Indian Henry's Hunting Ground
Descending to the Tahoma Creek, you get to cross another suspension bridge, which is pretty fun, and from there I did the last climb of the day up to Indian Henry's Hunting Ground. There's a patrol cabin there, and when I arrived to get the weather report, two older backpackers were getting treated to a tour.
The pair had been hiking together for over 40 years, and had been doing The Wonderland every years since they were in their 50s. It was the first time they'd been in the cabin and they were loving it.
Apparently the cabin was over 100 years old, and every winter gets completely snowed in. Experienced rangers know where it is, and newer ones use GPS to find it at the beginning of the season. They leave a snow shovel at a window in the apex of the roof to assist in the digging out, then they go head first through the window.
The ranger on duty said that the funny part is that you can then open the front door and the porch is mostly clear, so you can sit out there and look at a wall of snow for a view.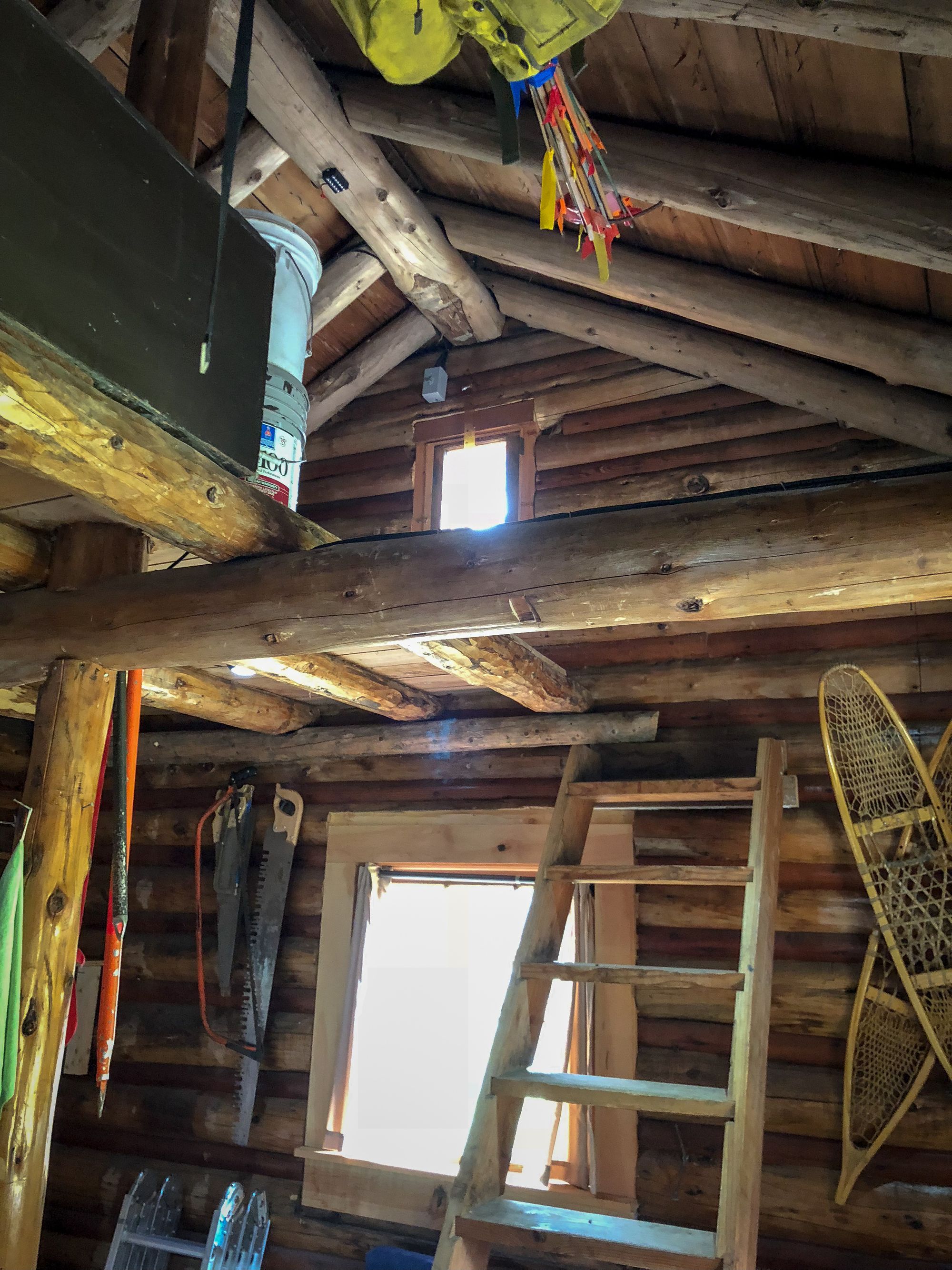 After getting the low-down on the cabin, the ranger gave me the weather report, and not only had the high wind advisory been dropped, but the bad weather seemed to be pushing off for another day. This was great news for the overall trip, though it still meant that my last day would have poor weather, as I went through the Indian Bar and Summerland areas, which are widely considered to be the most beautiful section of the park.
It turned out that the old timers were staying at Pyramid Creek with me that evening, so I told them I'd see them that evening, and set out on the last descent.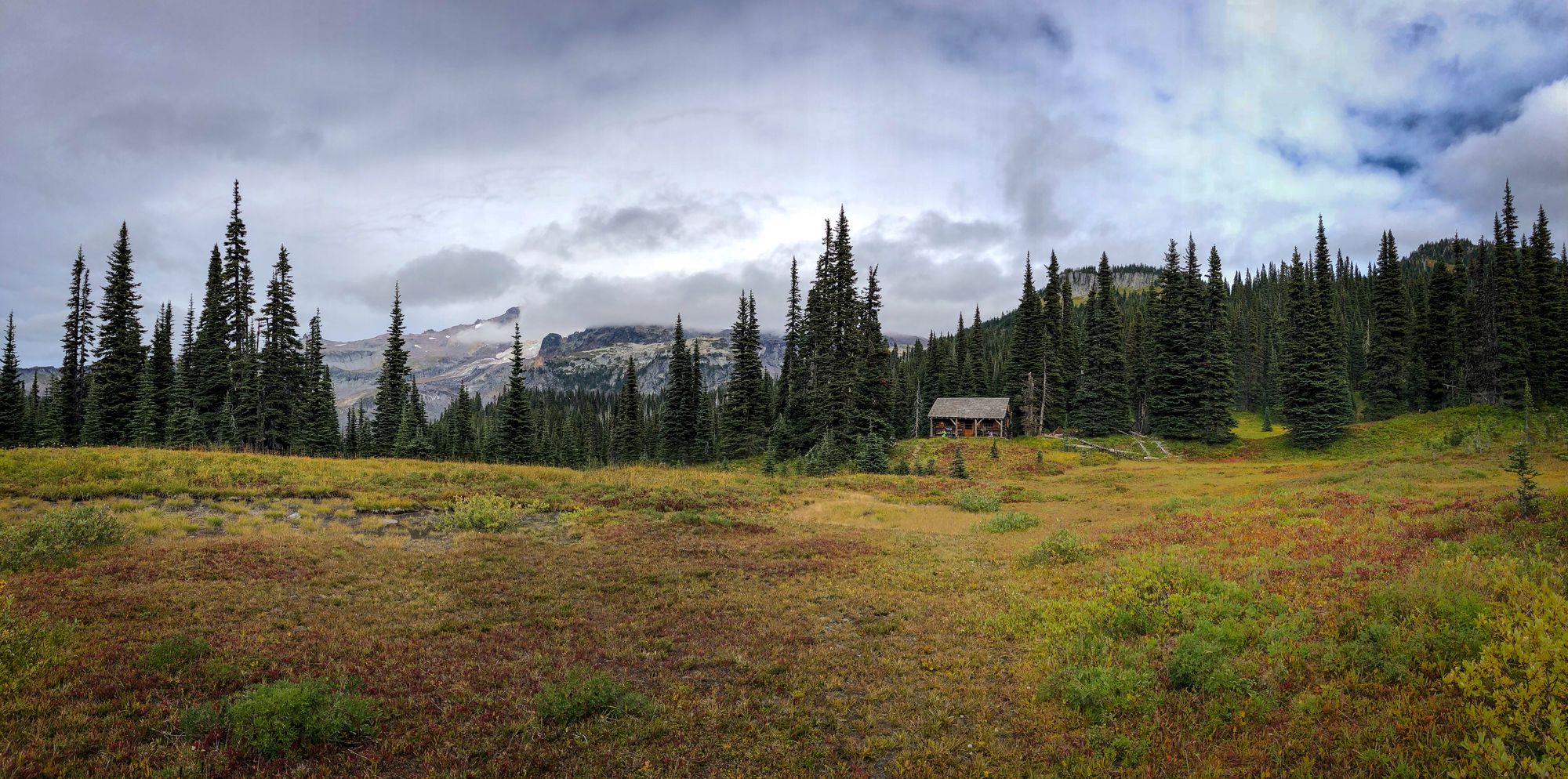 Pyramid Creek threw me my first real curveball when it came to setting up the hammock that evening, but I ended up finding success stringing it between two downed trees. I then put everything out to dry, and went back to a perfect pool in a creek near the trail for another round of hydrotherapy.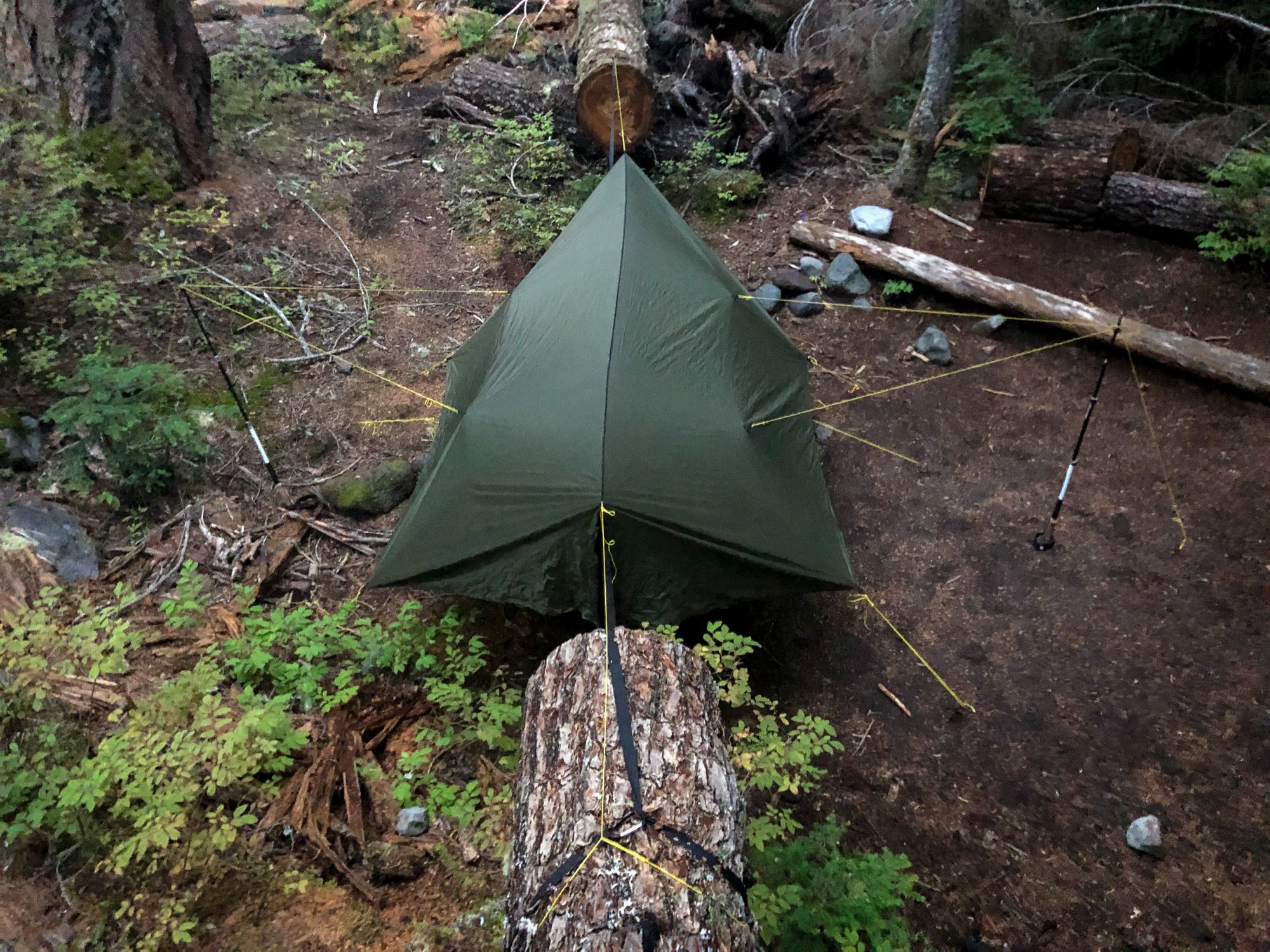 I got to bed early that evening, after what was, by far, my smoothest day on the trail.
Day 5 - Pyramid Creek to Indian Bar
Friday

25.7 miles

5800' ascent

4700' descent

3.0 mph moving speed

2.5 mph net speed
I was afraid I'd wake up Friday morning to rain, but instead I found a clear morning. The night before I'd had a chat with my more experienced campmates, and when asked what I had to look forward to on the south side of the mountain, they responded with "a hamburger in Longmire."
Several times I'd seen on the Internet that folks weren't too enamored with the south end of the Wonderland, which crisscrosses a road several times, and shares many of its viewpoints with visitors pulling up in their cars. The common refrain was to do it all in one day, if you can, or skip it altogether.
I decided I may as well take the opportunity for a good meal, so I skipped breakfast in camp, said my goodbyes, and set out for Longmire.
A clear day calls for a change of plans
As I crossed Kautz Creek, I was immediately treated to some of the clearest views of the mountain that I'd seen all week. This got me to thinking that maybe I should attempt to change my itinerary in Longmire. Instead of going to Nickel Creek, where I was scheduled, I could instead go to Indian Bar, one of the premiere camps on the trail, if it was open.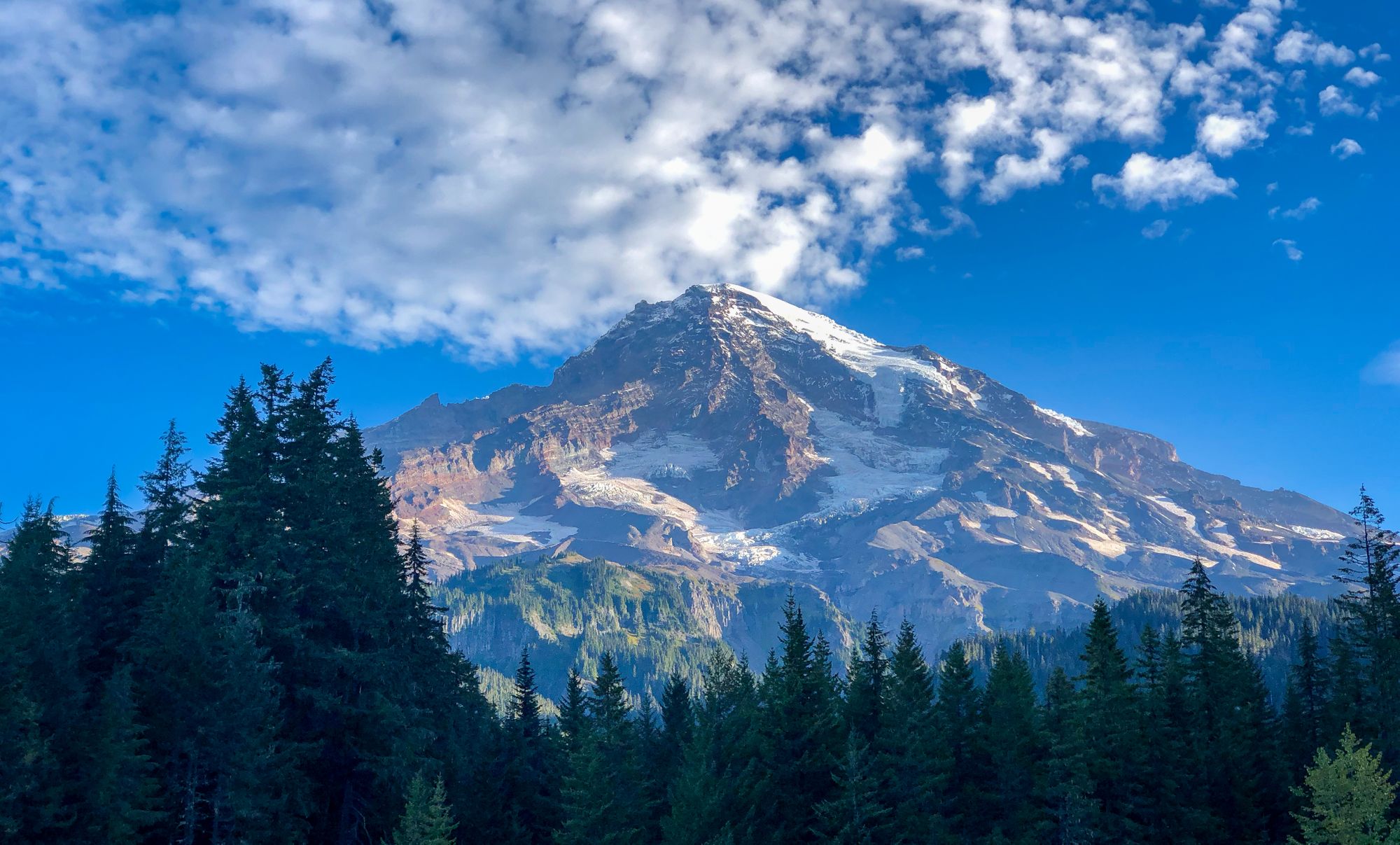 There were pros and cons to this change. The pros were that it looked like the weather would be good Friday, but bad Sunday. As such, I get some of the best section of the park while the weather was good, and go from a so-so campsite to one of the best. Plus, I'd go from a 19 miles on Saturday to 12. This would allow me to linger a little bit more, as well as get home before dark.
The cons were that I was going to have a monster day. Almost a marathon's worth of hiking, with a 3000' climb to finish the day. On top of that, Indian Bar wasn't supposed to be friendly to hammock camping, so there was a chance I'd be sleeping on the ground under a tarp.
On the face of it I should have turned down this plan, the raw numbers were much worse than day two, which had nearly done me in, but I was buoyed by my early start, my significantly reduced pack weight, the relatively easy stretch I'd have through the first 19 miles, and the confidence that my body was better adapted to hiking.
Longmire was about five miles into the hike, and my first stop was the ranger station. I asked about changing, and they said that Indian Bar was full, but there was a permit that was yet to be claimed. At 10 am they pull the permits and they become first-come, first-served. It was 9:20, so I asked them to put me in line while I went to get breakfast.
Breakfast in Longmire turned out to be quite good, and the waitresses couldn't have been friendlier. They didn't seem to mind that I smelled like a dirty hippy, and simply sat me away from the other guests. When I wrapped up my meal I discarded my trash, and went back to the ranger station to find out that I was in.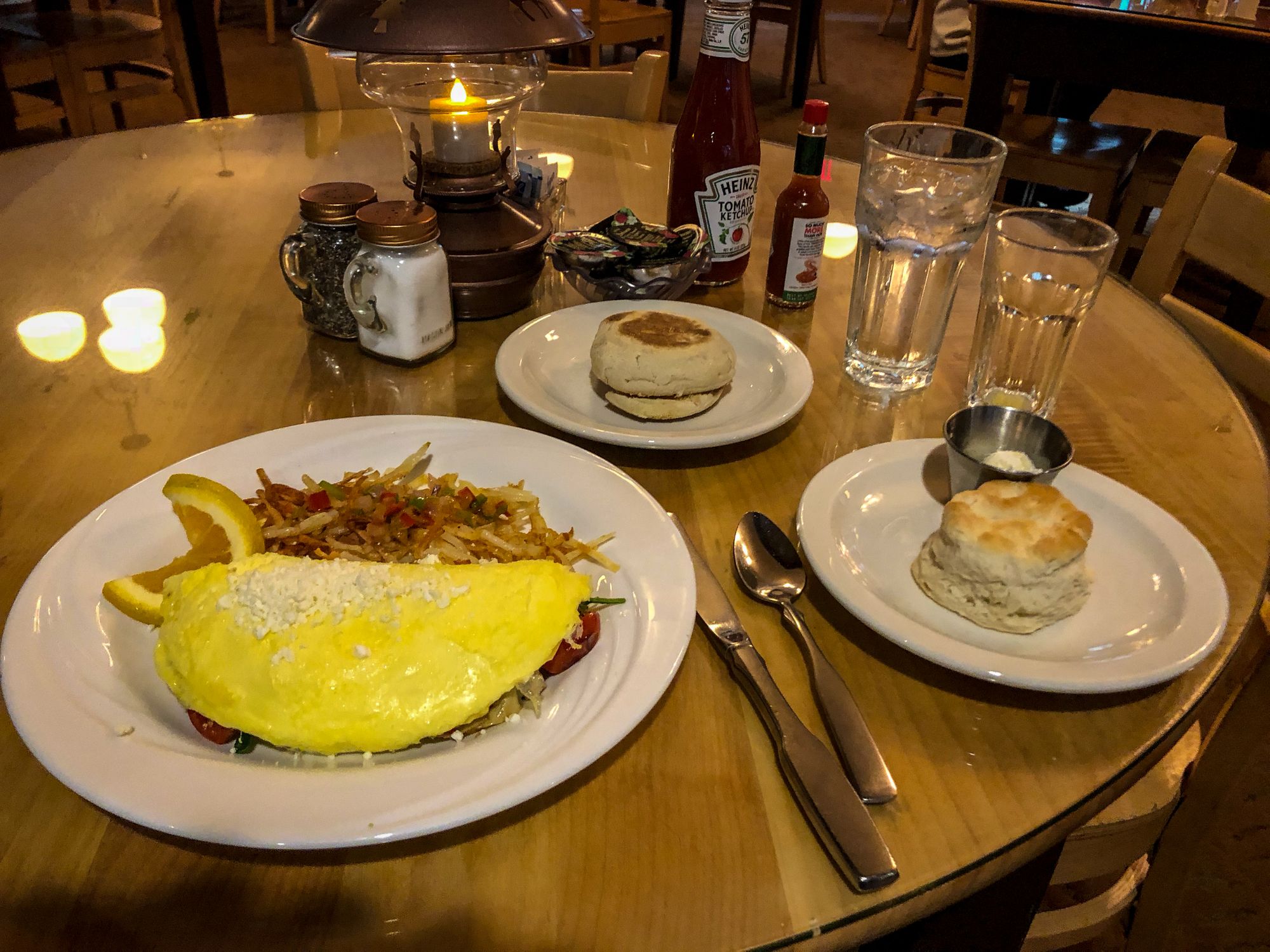 Whos afraid of an impromptu marathon?
Setting off at a good clip, I did some quick math that told me I'd be fine, and decided just to keep the pedal down the whole day. The route to the final pitch was largely uneventful, save the trail giving way and dumping me in some brambles, a big washout on the side of a cliff I had to pick my way through, some deer, and another mid-hike hydrotherapy session.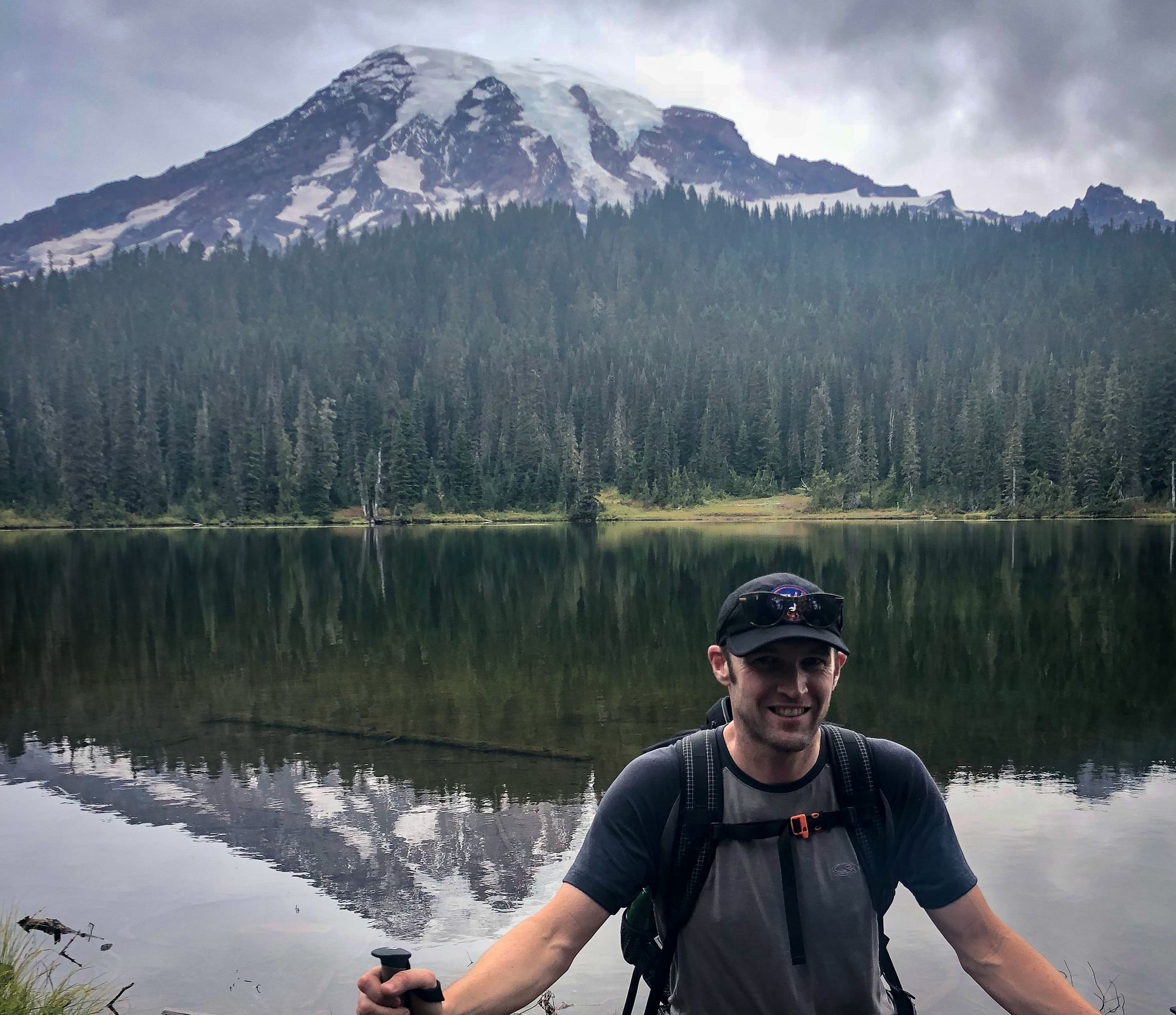 I shouldn't have been disappointed crossing Box Canyon a little after 3 pm, as it was on the conservative side of my estimate, but it was still intimidating to think I had three hours to make it through a difficult seven miles. On top of that, I'd tweaked my knee jogging some of the descents; an effort to gain time that had horribly backfired.
Worries aside, I dug in and managed to maintain the 3 mph I'd held all day up the 3000' climb. It was by no means easy, but at least a familiar type of effort to cycling and running.
Along the way I was treated to views of Mount Adams, and even caught a glimpse of Mount Hood.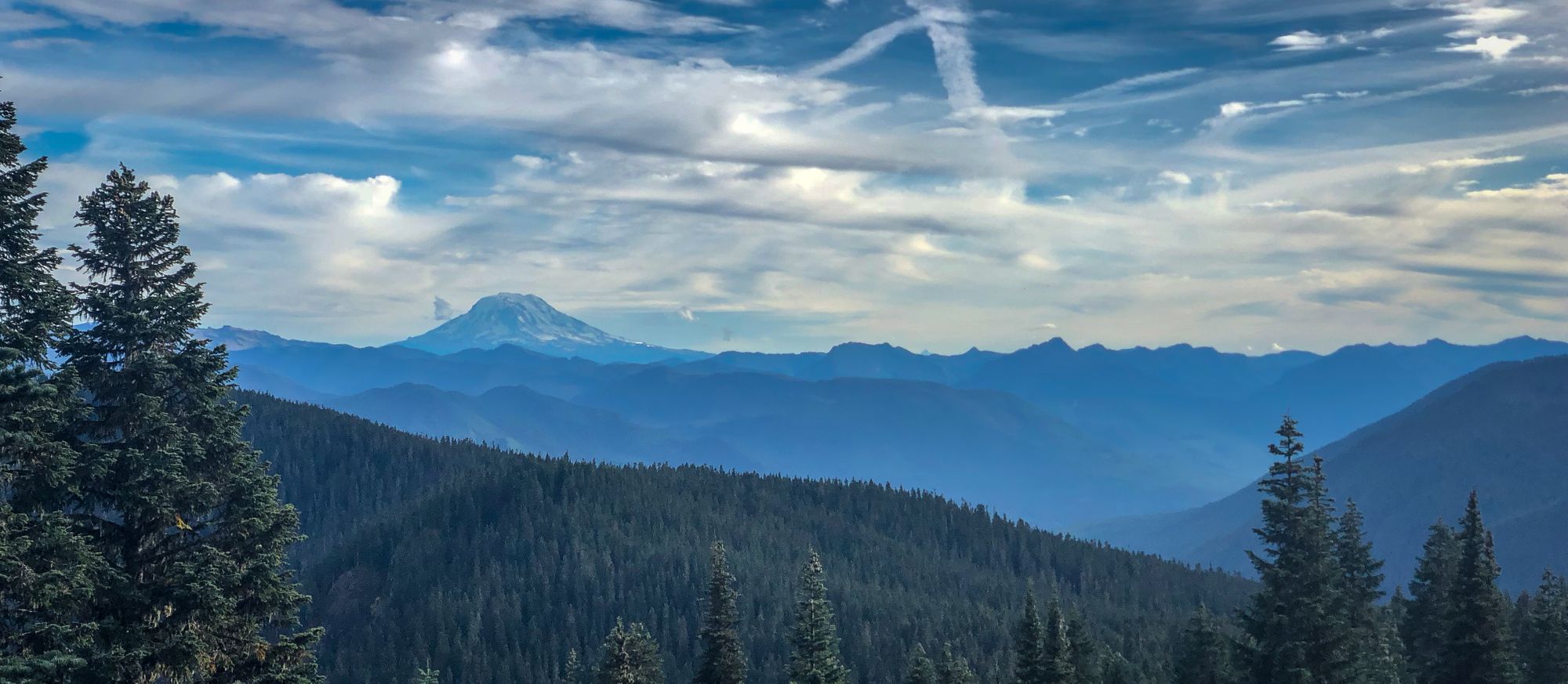 I came into camp at 6:15, tired, but satisfied. True to its reputation, Indian Bar is a beautiful spot, at the bottom of the Ohanapecosh Glacier. The camp sits in a pinch point where the creek flowing from the glacier creates and waterfall, and a bridge crosses it at the center of camp.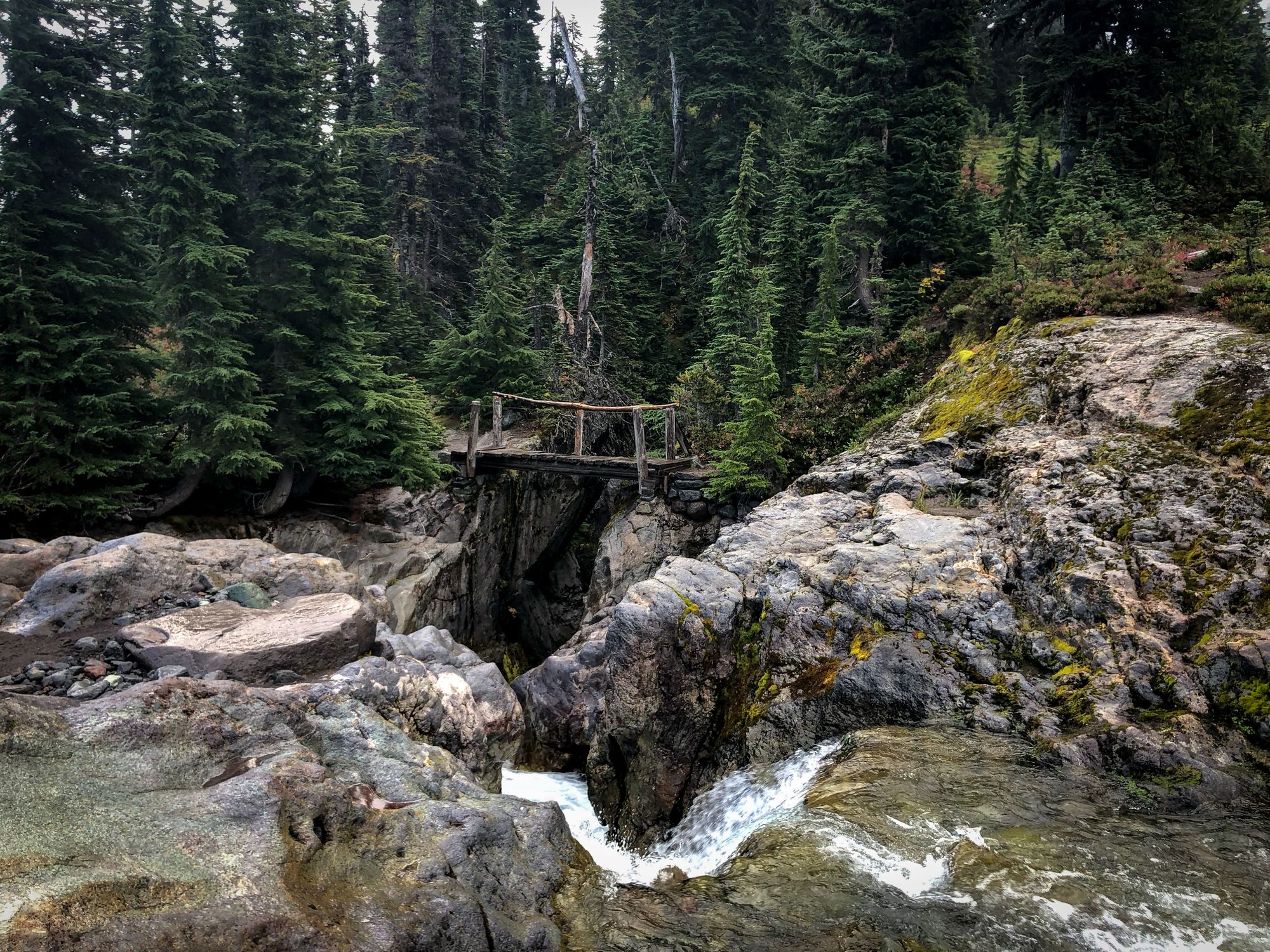 Despite concerns about the availability of hammock spots, I managed to nestle into the trees at Site 1, make myself some dinner and turn in as it got dark. For the first time in the trip I got significant rain, and had to get up at one point to reset my stakes, but it was an otherwise uneventful night.
Day 6 - Indian Bar to White River
Saturday

11.1 miles

3300' ascent

3800' descent

? mph moving speed

1.8 mph net speed
On my final and sixth day on the trail, I finally woke up to rain. Since I had a short day with a car waiting at the end, there wasn't any rush to get going. I had a leisurely breakfast and coffee sitting in my hammock under the tarp. As I wrapped up, though, the weather began to break. I couldn't believe my luck, so quickly struck camp and started out.
The climb from Indian Bar along Ohanapecosh Park to Panhandle Gap would be the only significant ascent of the day. So I took my time, and took advantage of the break in the clouds to enjoy views of the glacier and park.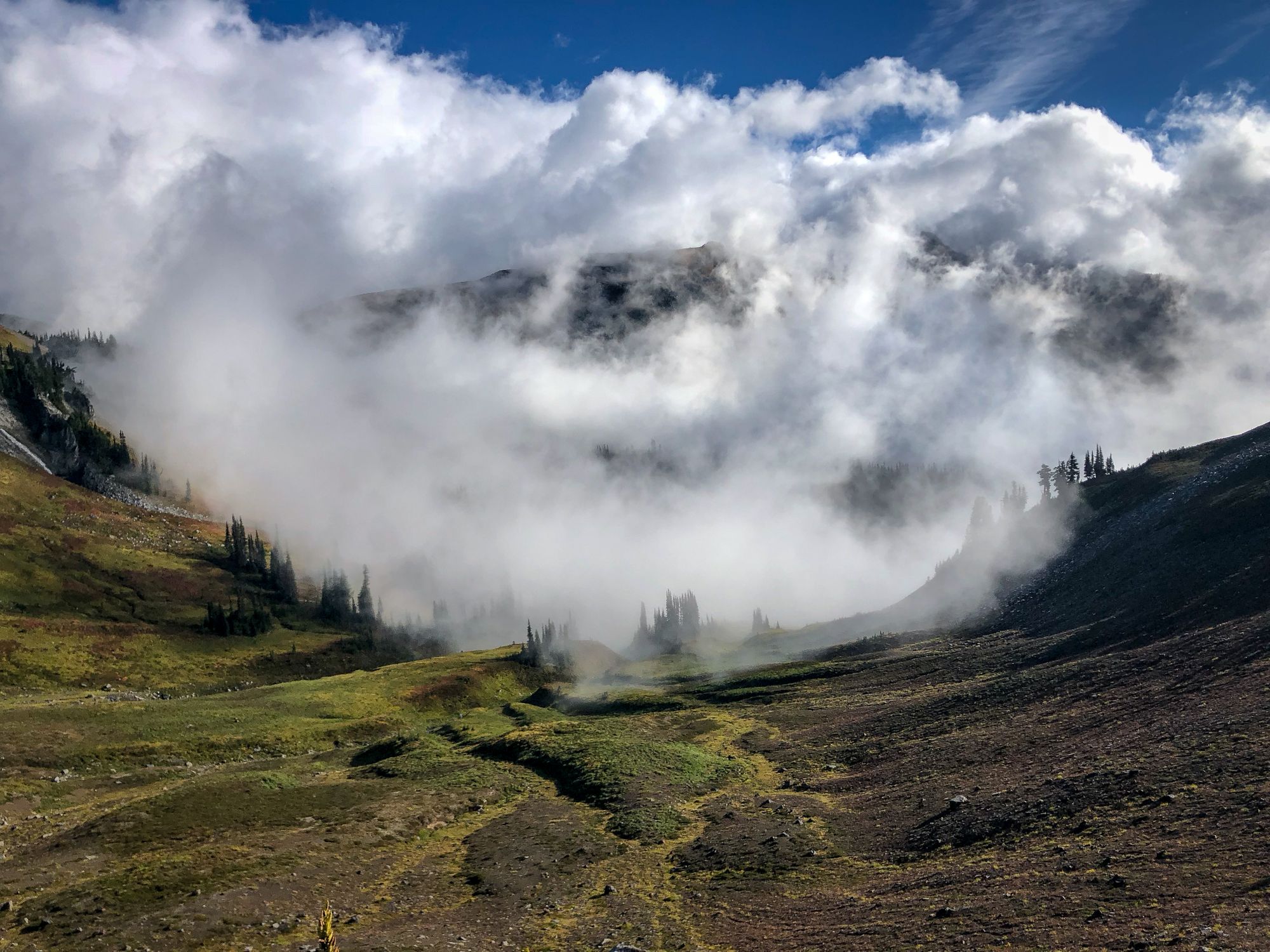 Near the top of the ridge the separates the park from the glacier I ran into Wes. By the look on his face I could tell he was as enamored with this section of the park, and our luck with the weather, as I was. We stopped to compare notes, and snapped pictures of each other with a rainbow and the glacier. As we stood there, a ranger I had passed on the trail joined us to chat.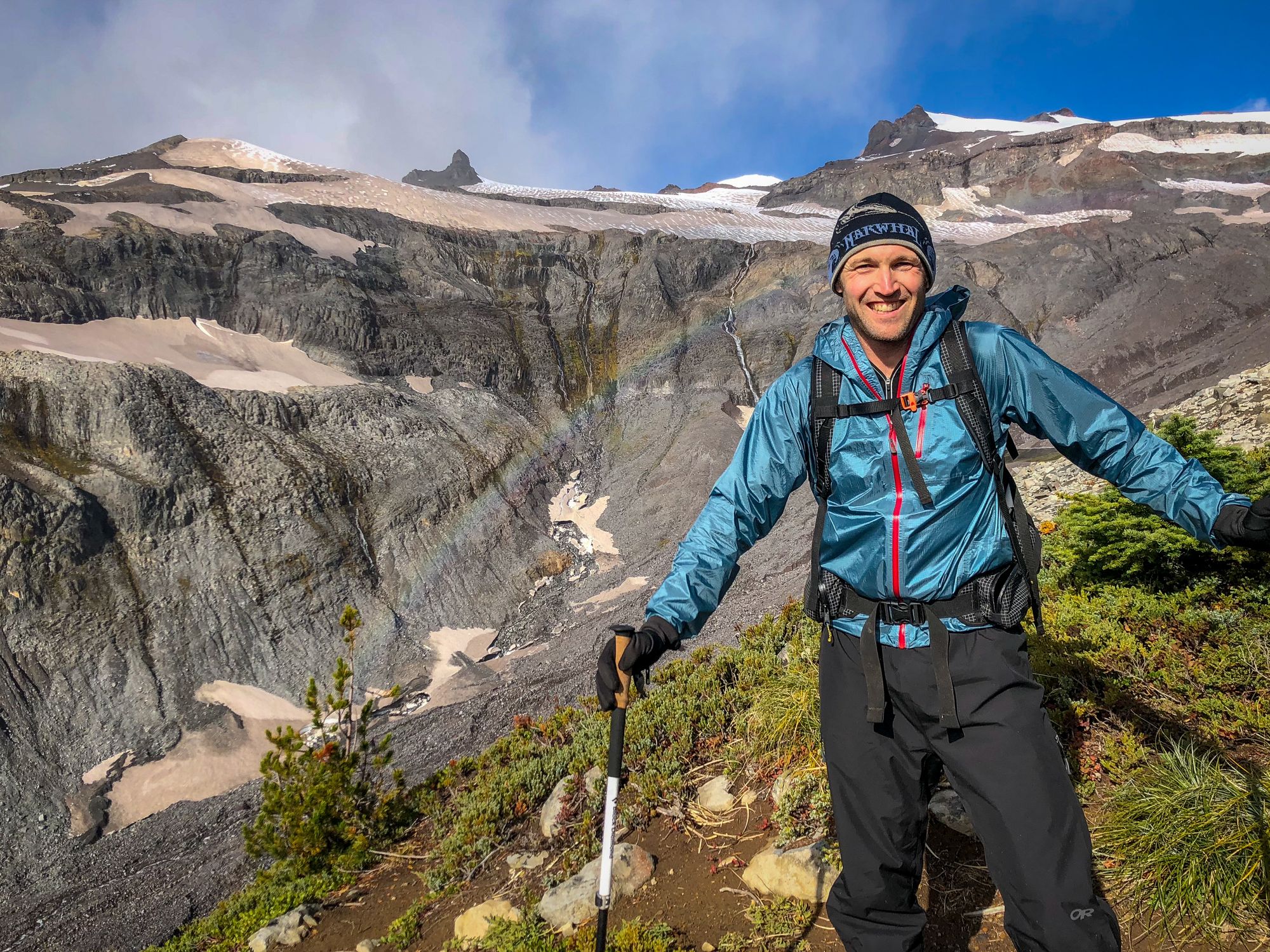 She had been at Indian Bar as well, and she and Wes chatted about hearing an icefall during the night. The ranger said she feared it was a lahar and braced herself for what might be to come. I wasn't familiar with them, so I asked, and she explained that they're caused by liquid water trapped in the glacial ice. If one is exposed during an icefall, a rush of water comes out, often picking up dirt and debris as it goes. Apparently Indian Bar is in danger of experiencing one.
I was glad I hadn't known about this the night before, as I actually slept pretty well during the rain.
We said our goodbyes to Wes, and I set off with the ranger, picking her brain about the park and her job as we went. I was surprised to learn that most ranger jobs are seasonal, and that she was lucky to have gotten a full-time position three years ago. She said that the park was understaffed, and at any given time only six rangers were out on patrol. It was no mistake that I'd found the patrol cabin at Golden Lakes empty, while the one at Indian Henry's Hunting Ground was occupied; the schedules for those cabins are offset so someone is always "in that section of the park," that section being a span that had taken me over a day to traverse. To cover the slack, the park relies on volunteers.

Clouds set in as we walked along the northwest edge of Ohanapecosh Park and through Panhandle Gap. This section of the park is known for having amazing views that I knew I was missing, but I still thoroughly enjoyed the eery, moonlike atmosphere.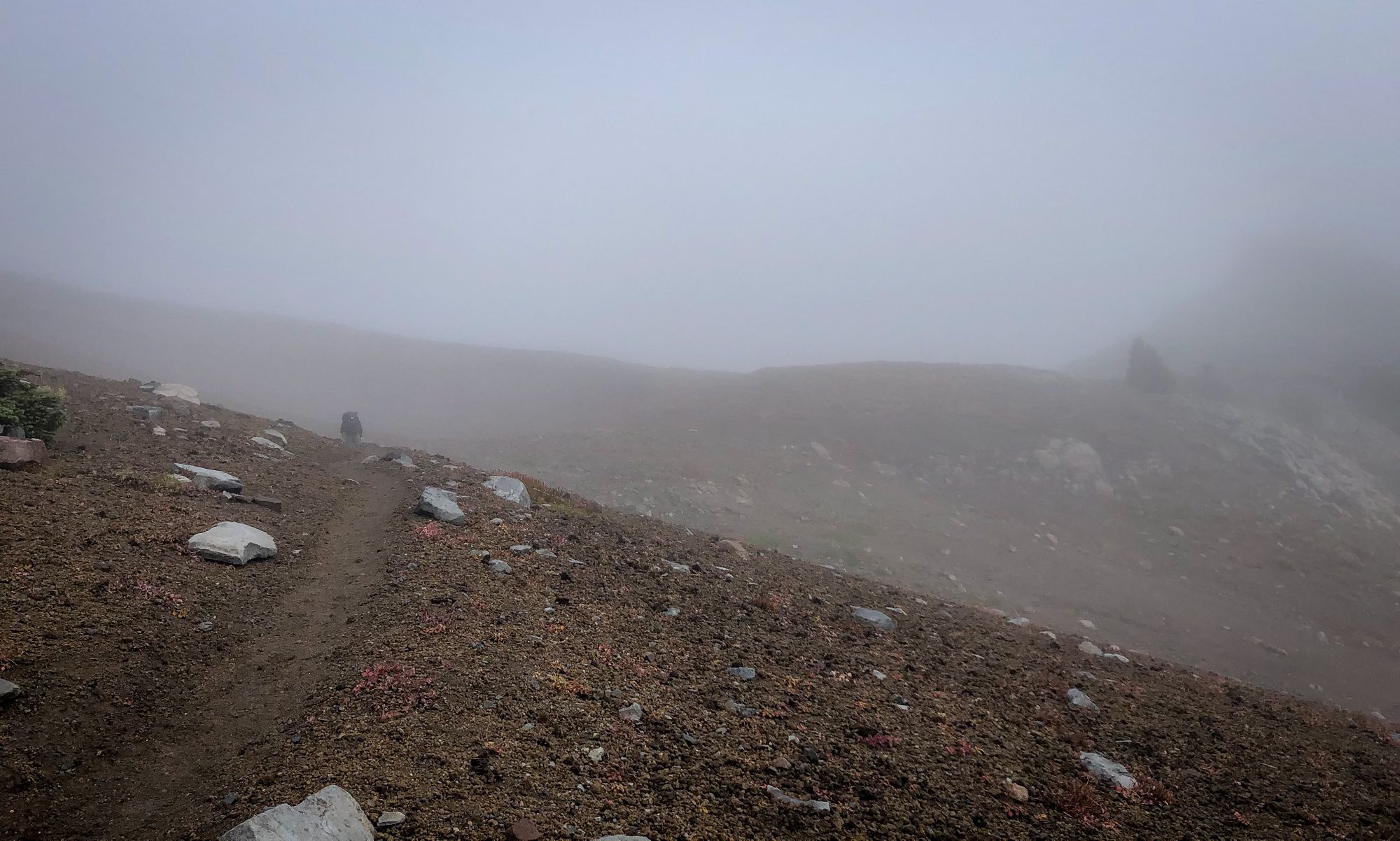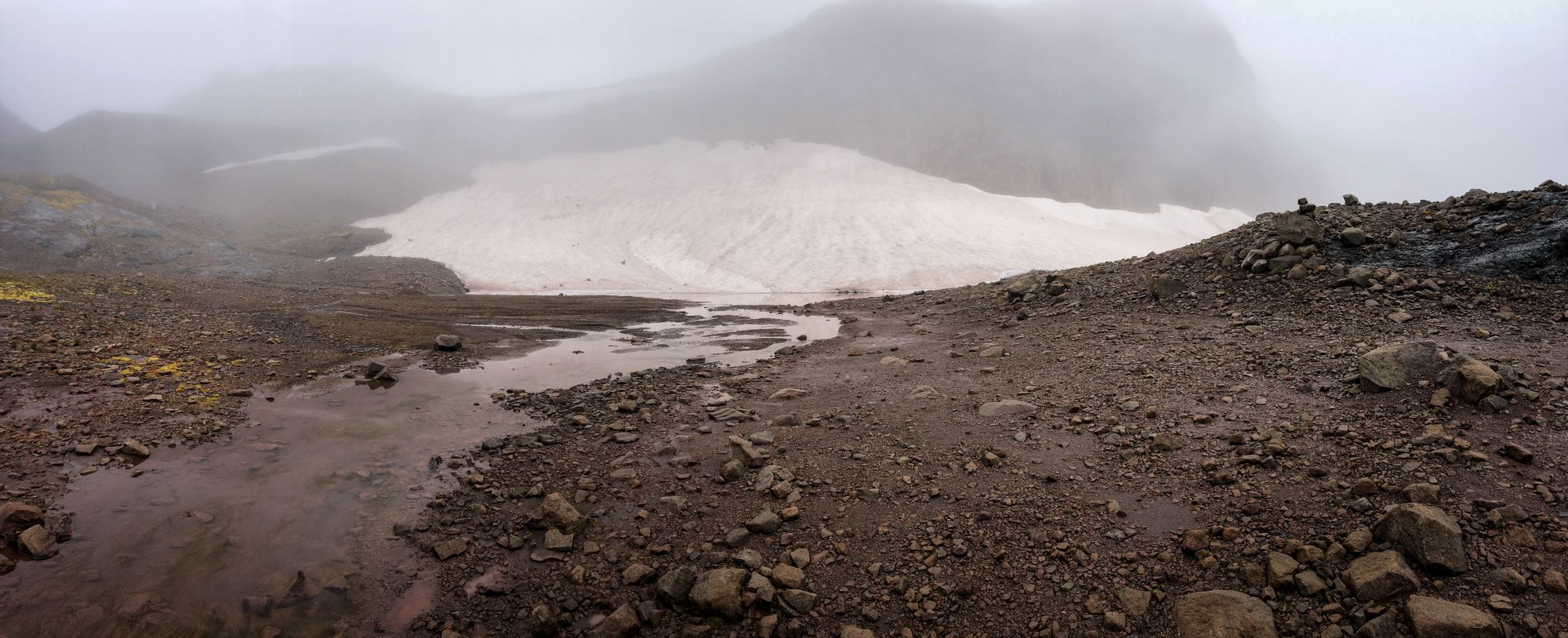 Summerland meadow, and the camp there are some of the best known in the park, and marked the end of the standout views. As I passed through, a fat marmot couldn't bring himself to move from the trail, and merely stared at me as I took his picture.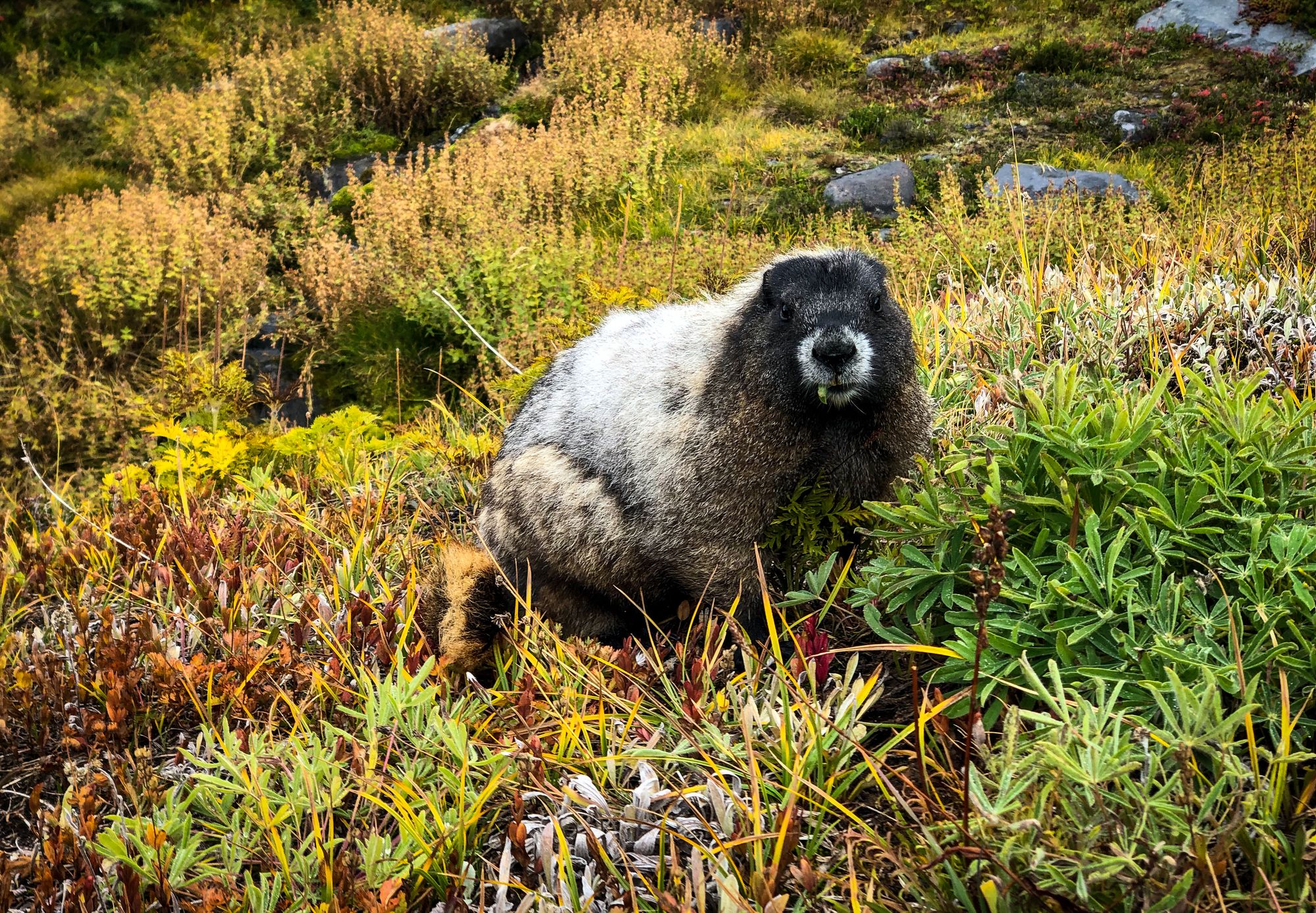 From there I descended along Fryingpan Creek, and then back up the White River, before finally crossing and getting back to my car.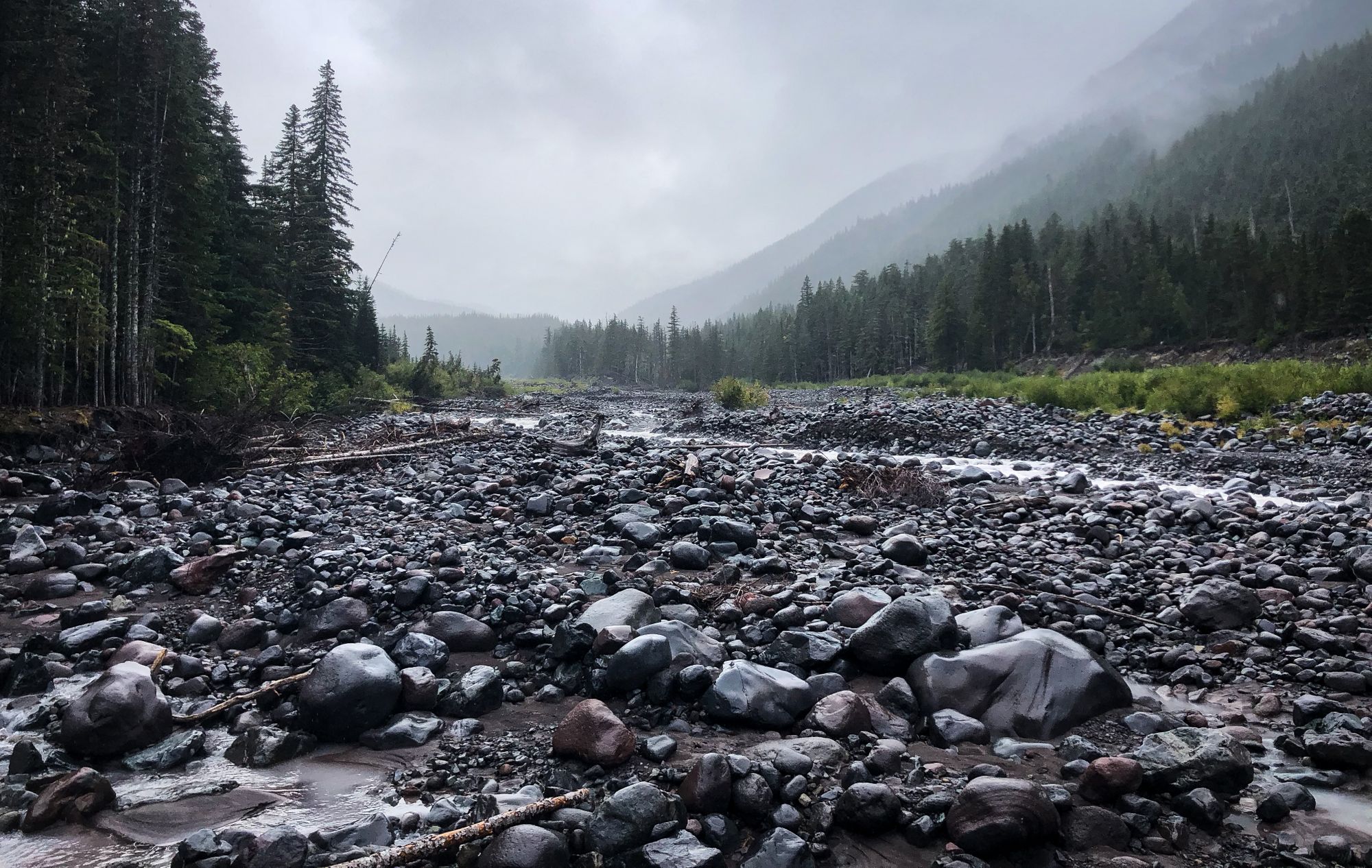 It's a strange feeling to finish a big trek to no fanfare, save the clean clothes and beer I'd stashed in the box on top of the car. I sat in my lawn chair, in the rain, and savored them, before getting in the car and heading back to real life.