Over Labor Day weekend Stephanie and I went with our friends, Randee, Kei, and Ryan on a three-day backpacking trip through the Goat Rocks Wilderness section of the Gifford Pinchot National Forest.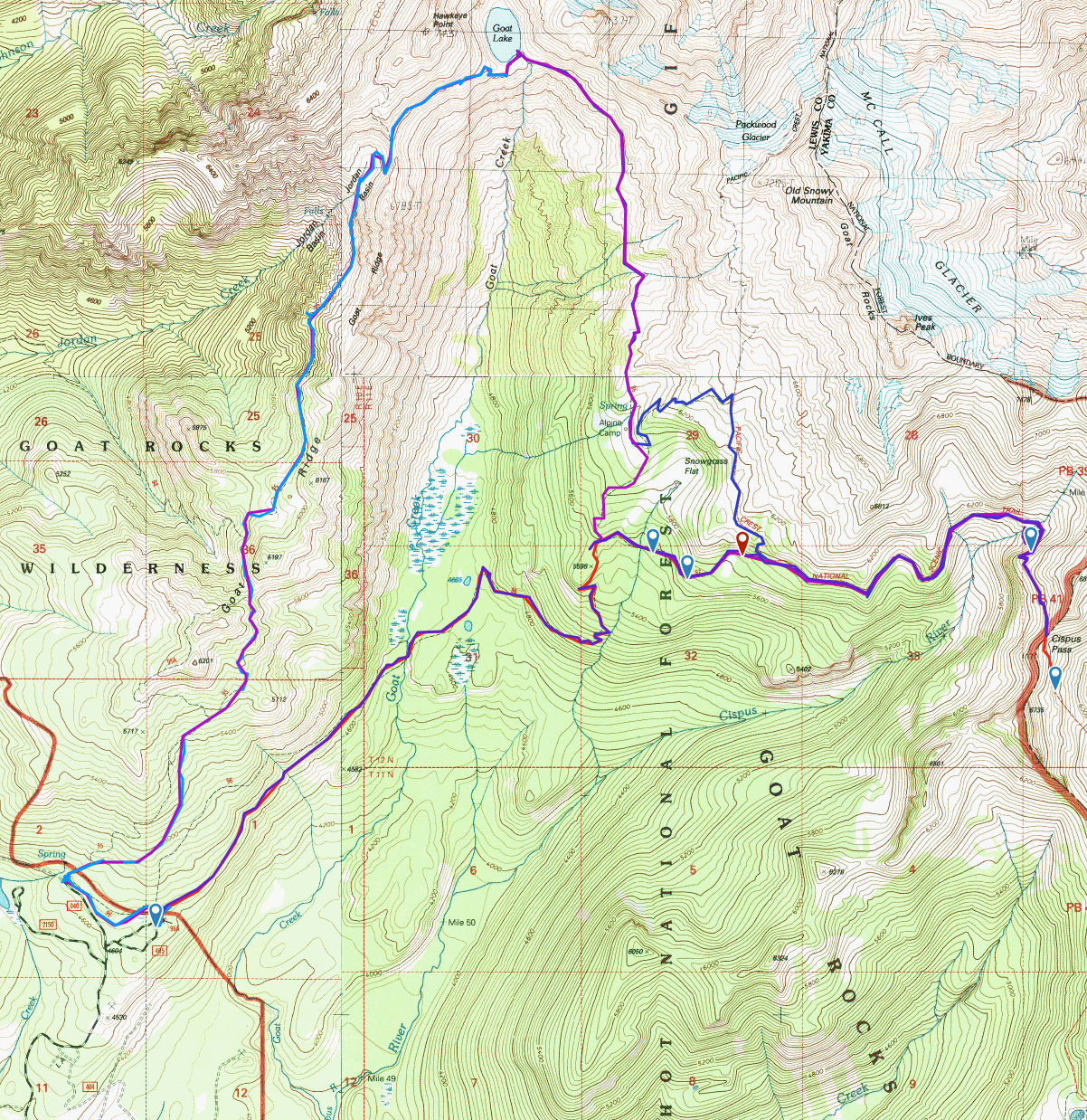 We got the idea for the trip from Craig Ramano's excellent book, Backpacking in Washington, and selected the route because it was rated as being relatively easy and got high marks for scenery. Randee, Steph, and I were still newbies to backpacking, so it seemed best to ease into things.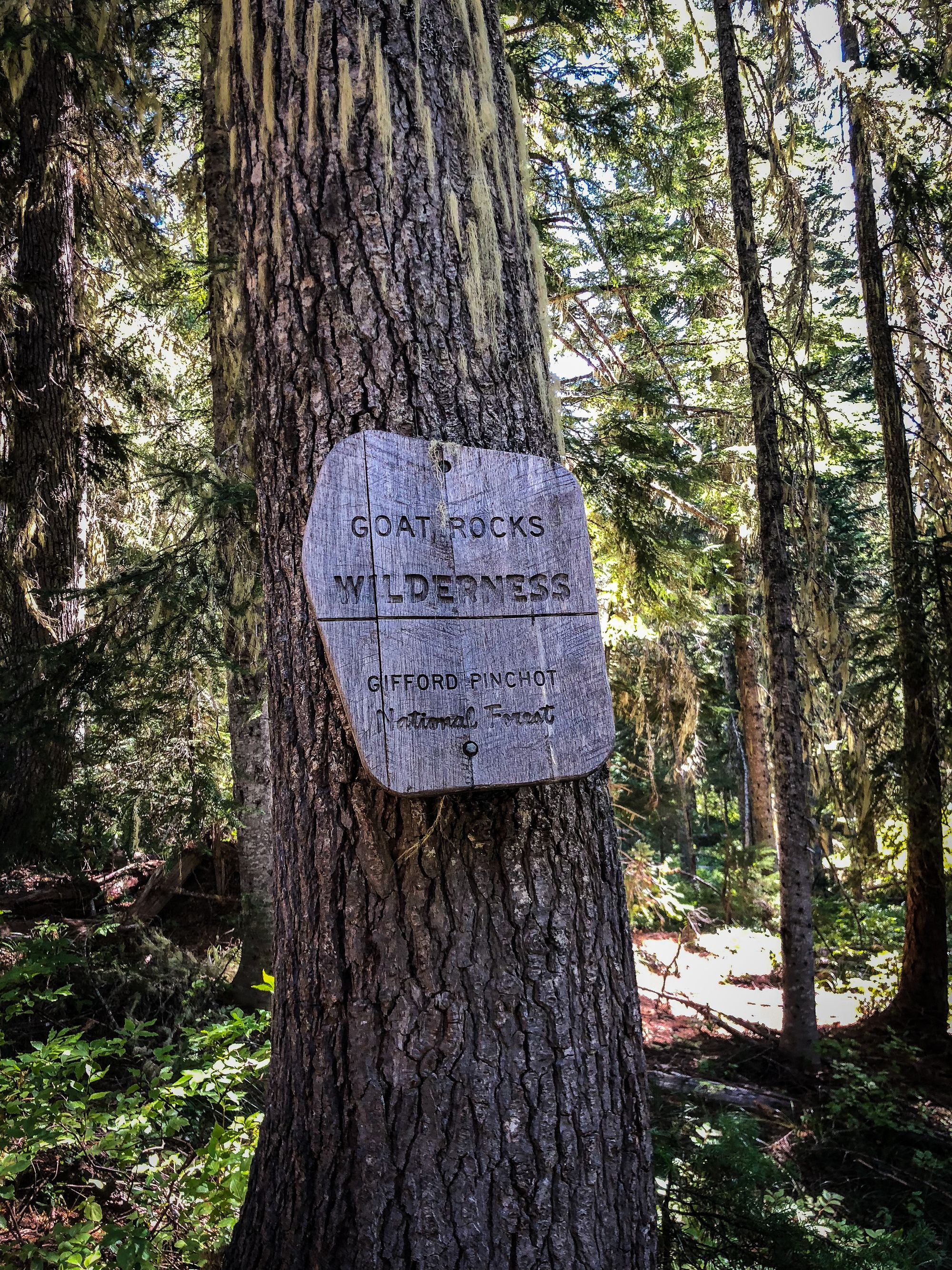 Day 1 - Cispus Basin
Saturday

8.5 miles

1800' ascent

600' descent

2.2 mph moving speed

1.8 mph net speed
Weather was excellent and we got underway right around 10 am from the trailhead off of Forest Road 2150. We started out gently climbing through the forest and gradually started to get views of Mount Adams as we approached Snowgrass Flat. At Snowgrass Flat and the Bypass Trail there's a camp area with a stream running through it that was our backup plan if we couldn't get spots at Cispus Basin.
We were super stoked when we started to see Mount Adams peeking out from the trail. Little did we know that MUCH better views awaited around the corner.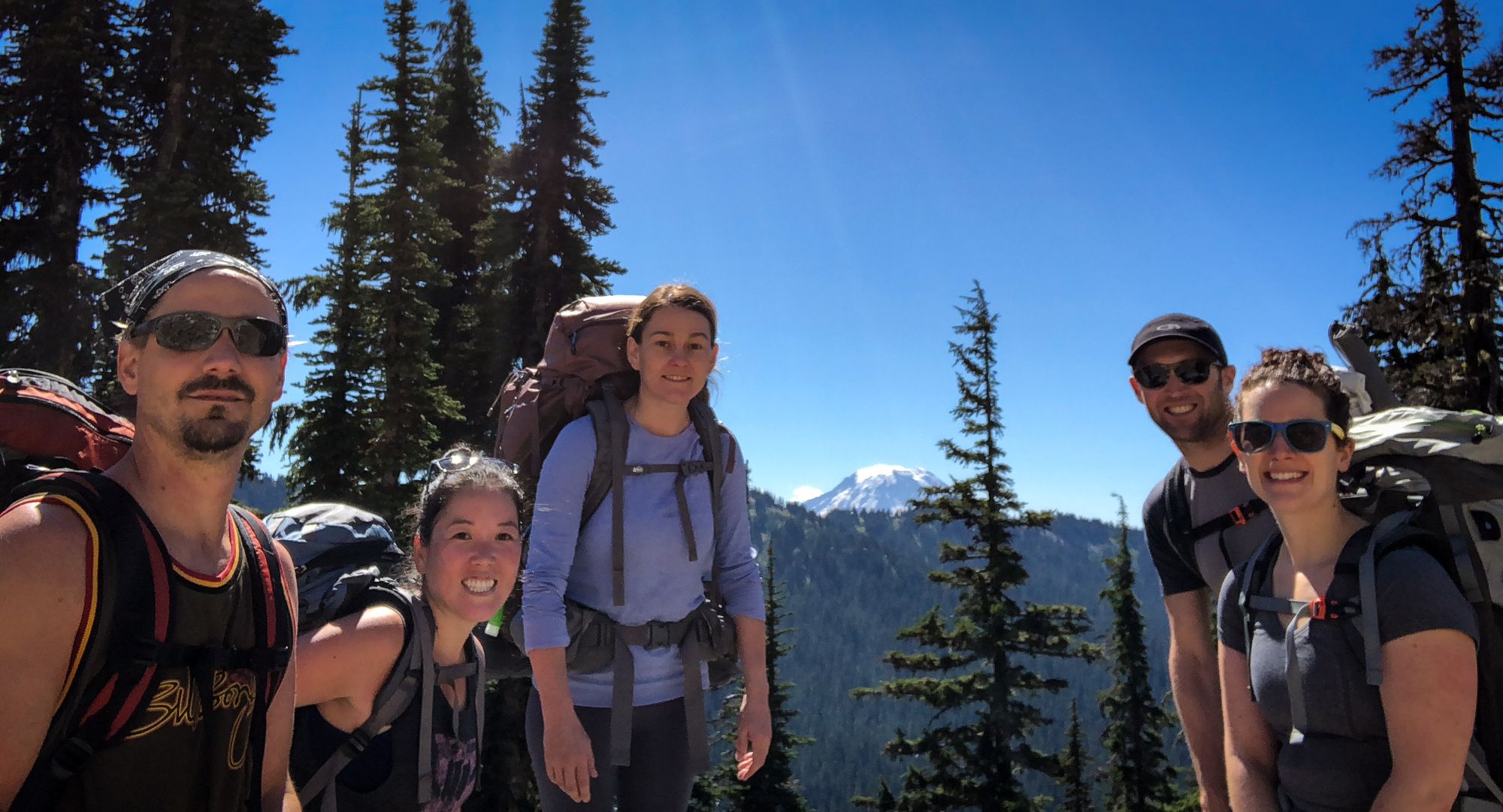 Even our experienced backpackers, Kei and Ryan, were shaking the rust off, so we considered just camping at Snowgrass Flat, but we felt so good that we decided to continue on to Cispus Basin to see if we could find a good spot.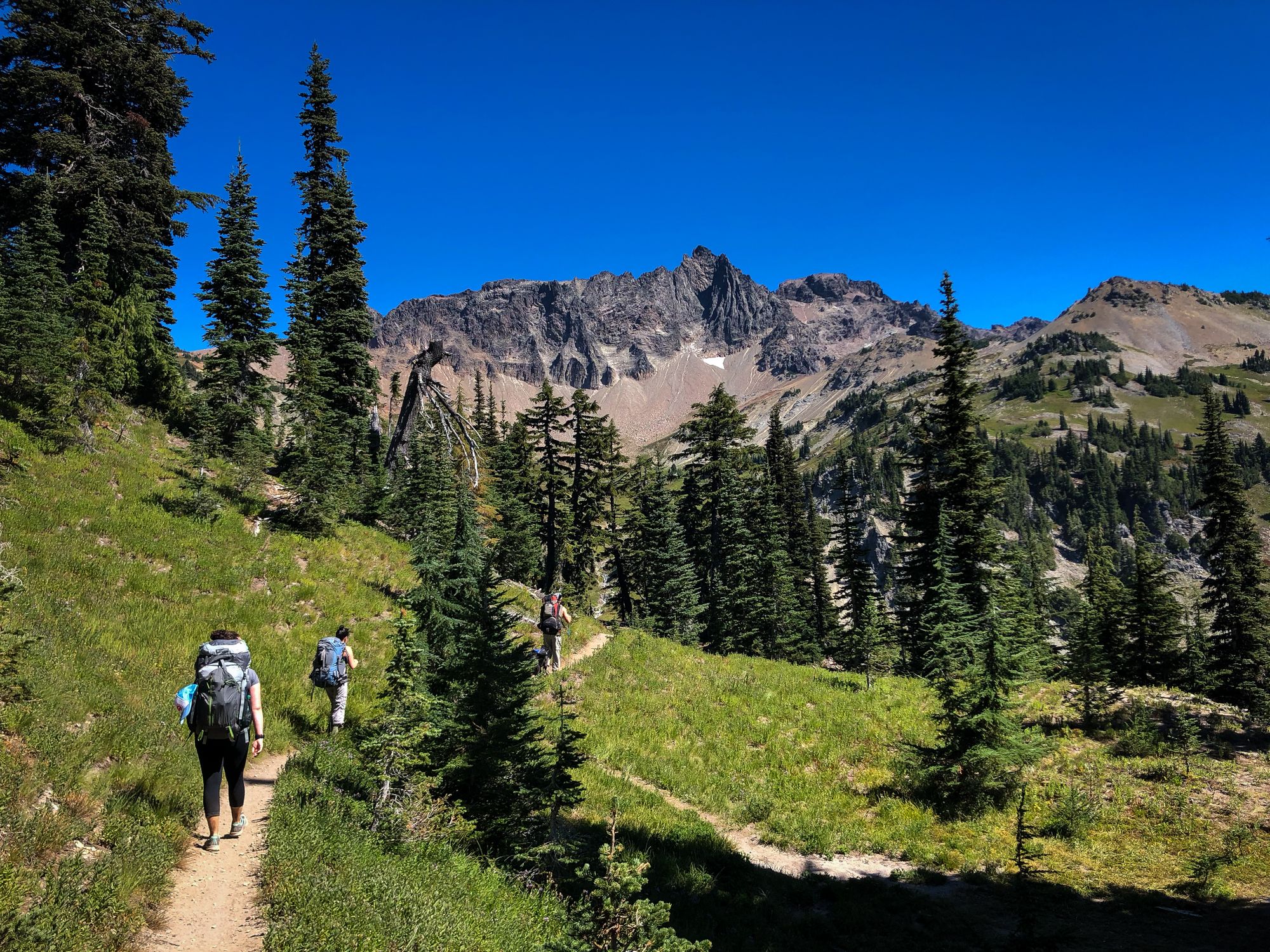 The walk in to the basin is largely treeless, and between waterfalls and wild berries, we were well-entertained over the additional four miles.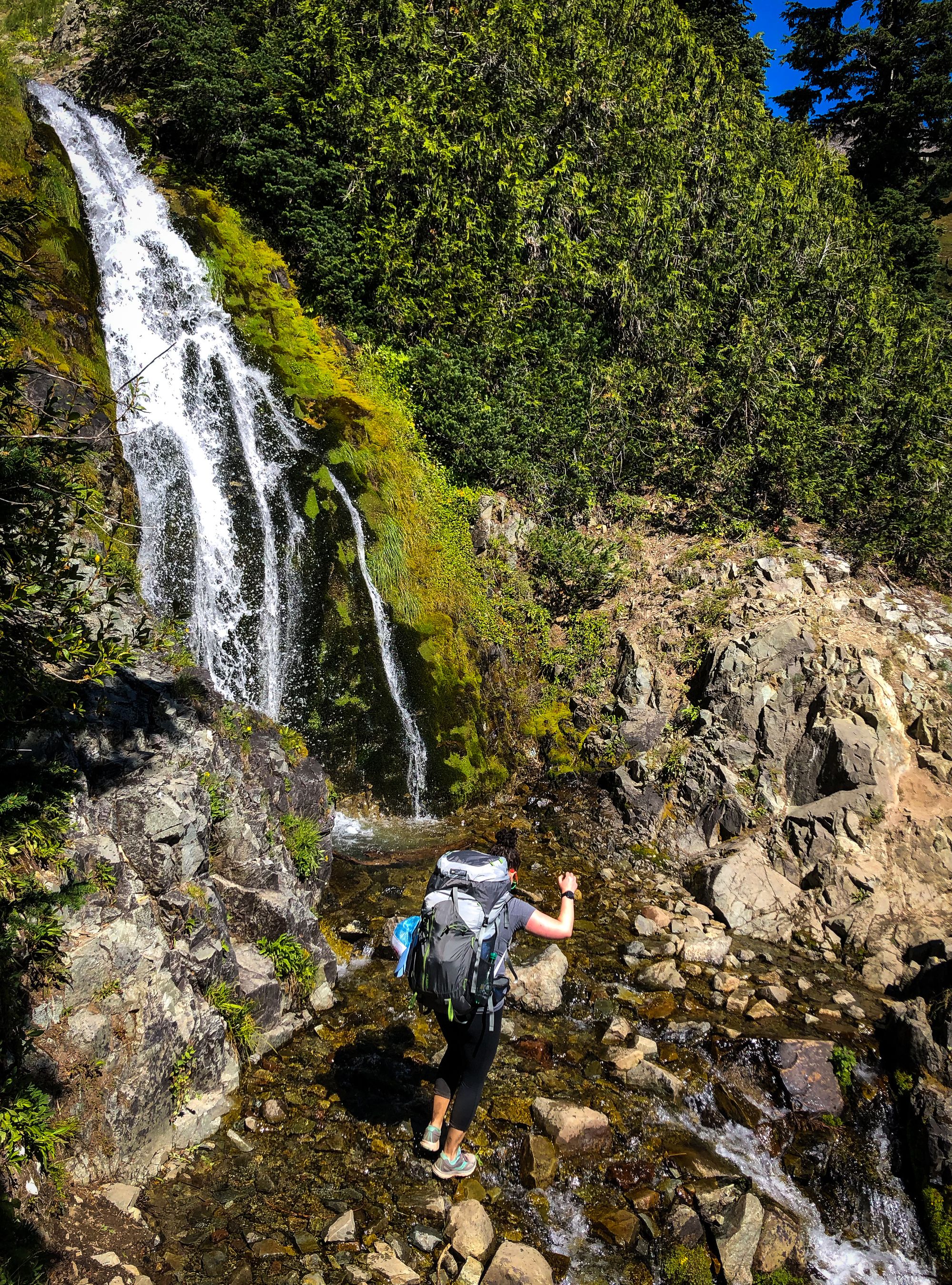 Water at Cispus Basin is plentiful from a creek that flows through it. We even found a sweet caterpillar hanging out down by the creek!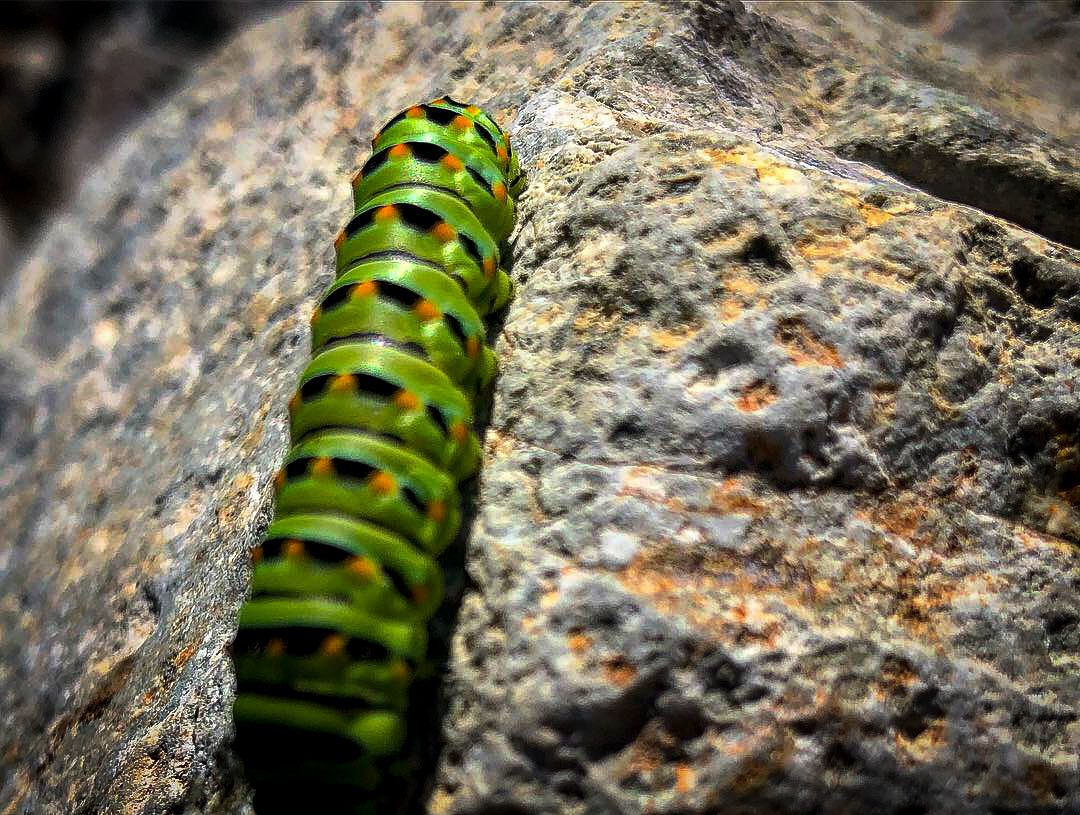 Before dinner we hiked up to Cispus Pass. The trail we took is part of the Pacific Crest Trail, and while we stood on the pass several thru-hikers came by. We chatted with a hiker from Detroit who said his immediate plans on finishing were to go sit on a couch somewhere.
On the way back we got an even better vantage point on the basin. It's really gorgeous, and true to its name, a herd of goats migrated up and down the face during our stay there.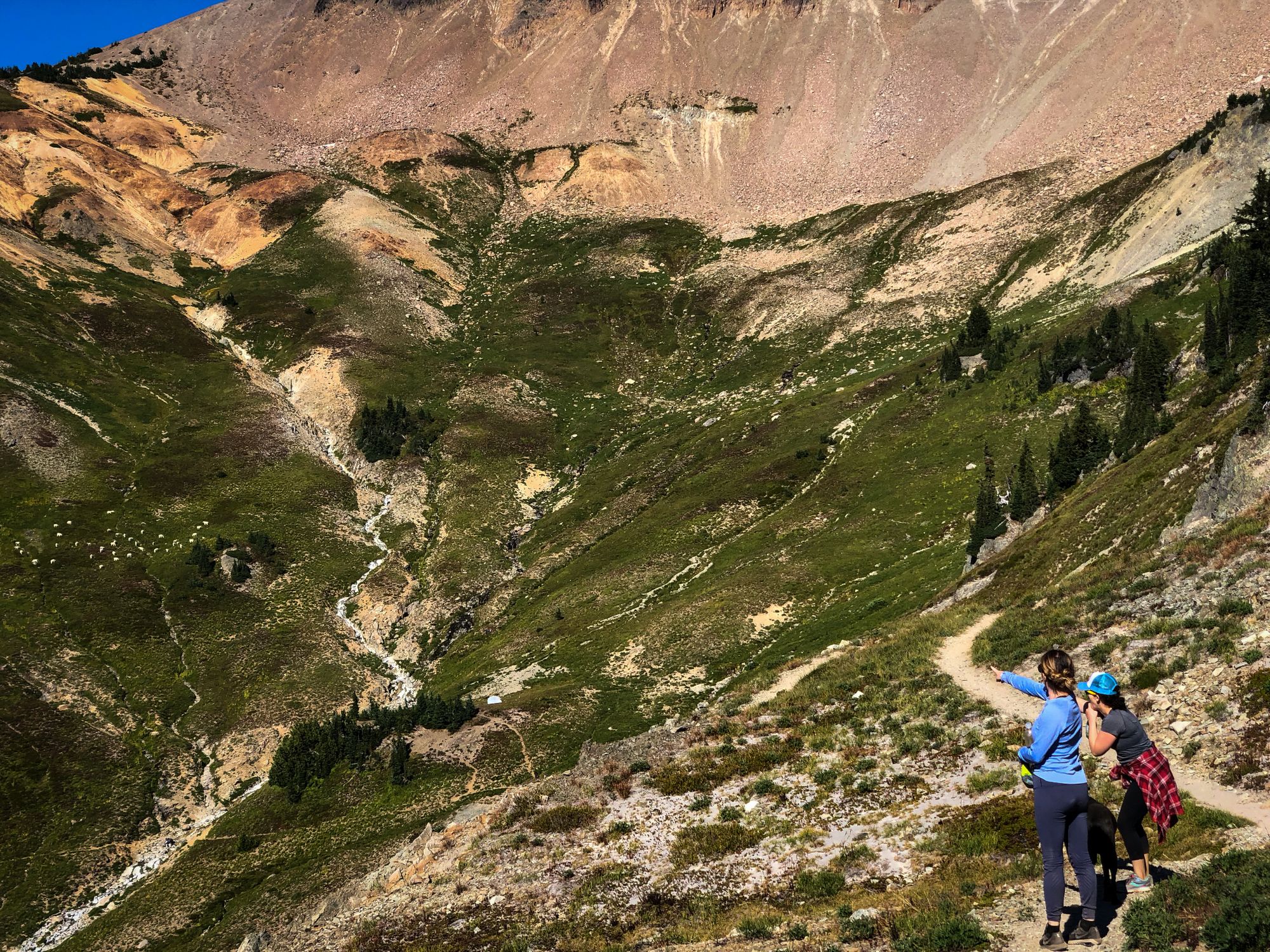 Day 2 - Goat Lake
Sunday

6.2 miles

1000' ascent

800' descent

2.2 mph moving speed

1.8 mph net speed
We woke up Sunday to a clear morning, and enjoyed coffee from our tent.
We hadn't really planned past the first night, so we had some options. We could have stayed another night in Cispus, gone back to explore backcountry sites in Snowgrass Flat, or go on to Goat Lake, which we knew nothing about.
Seeing as we're all keen on lakes, we picked Goat Lake, and plotted our course.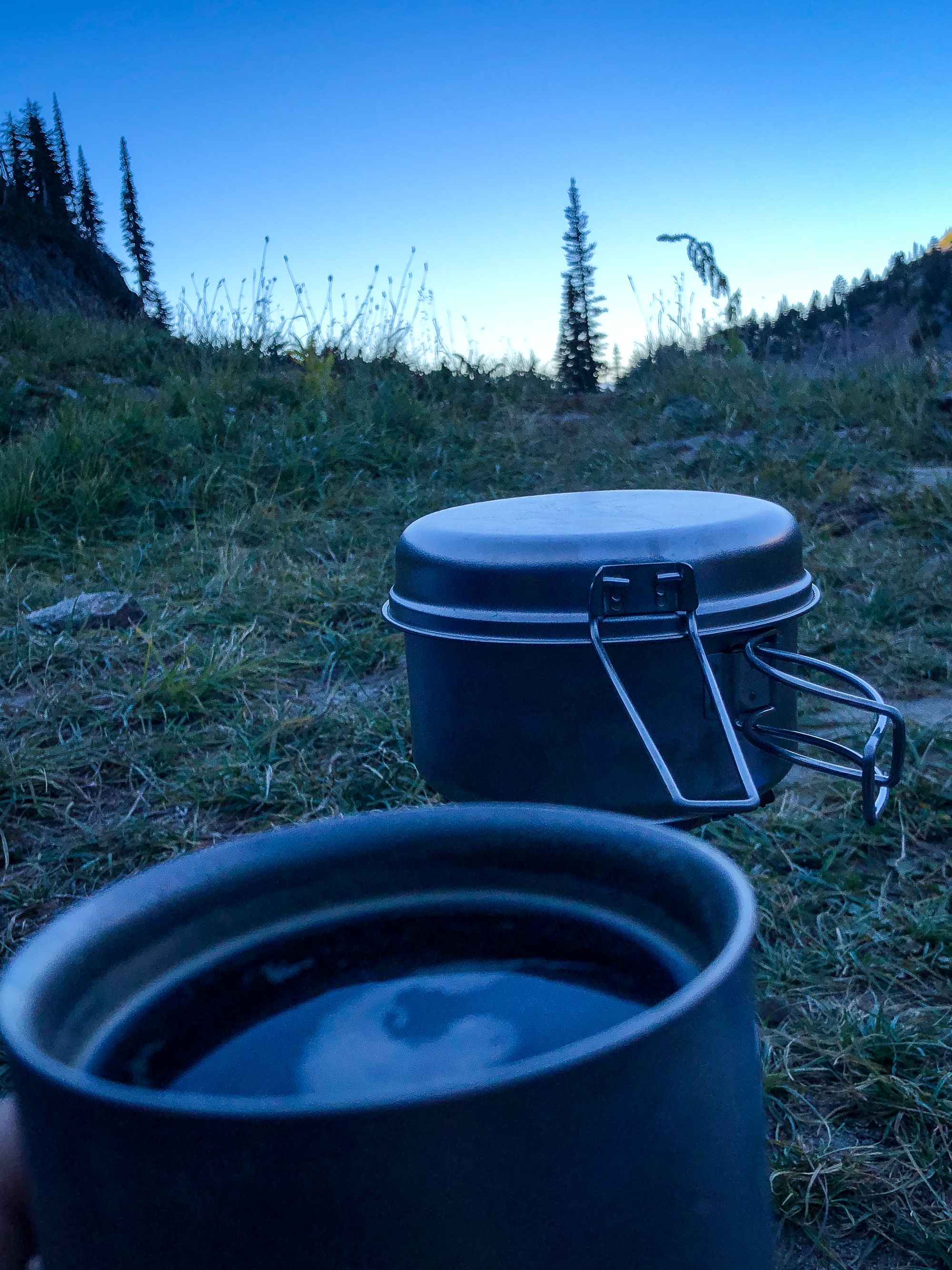 We followed the PCT up past Snowgrass Flat, and enjoyed awesome views of Mount Adams whenever we paused to look back; and as we hiked into the valley where Goat Lake is, we began to feel like we'd made a good choice.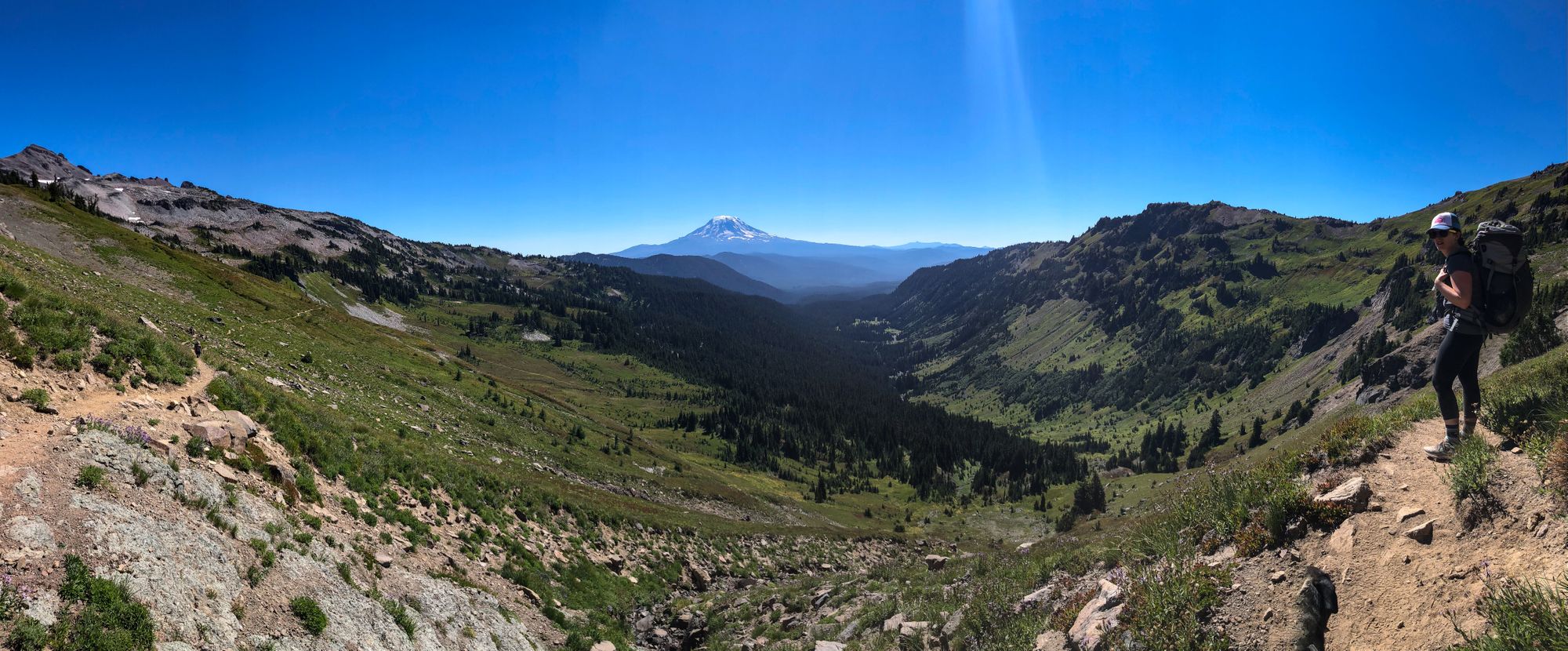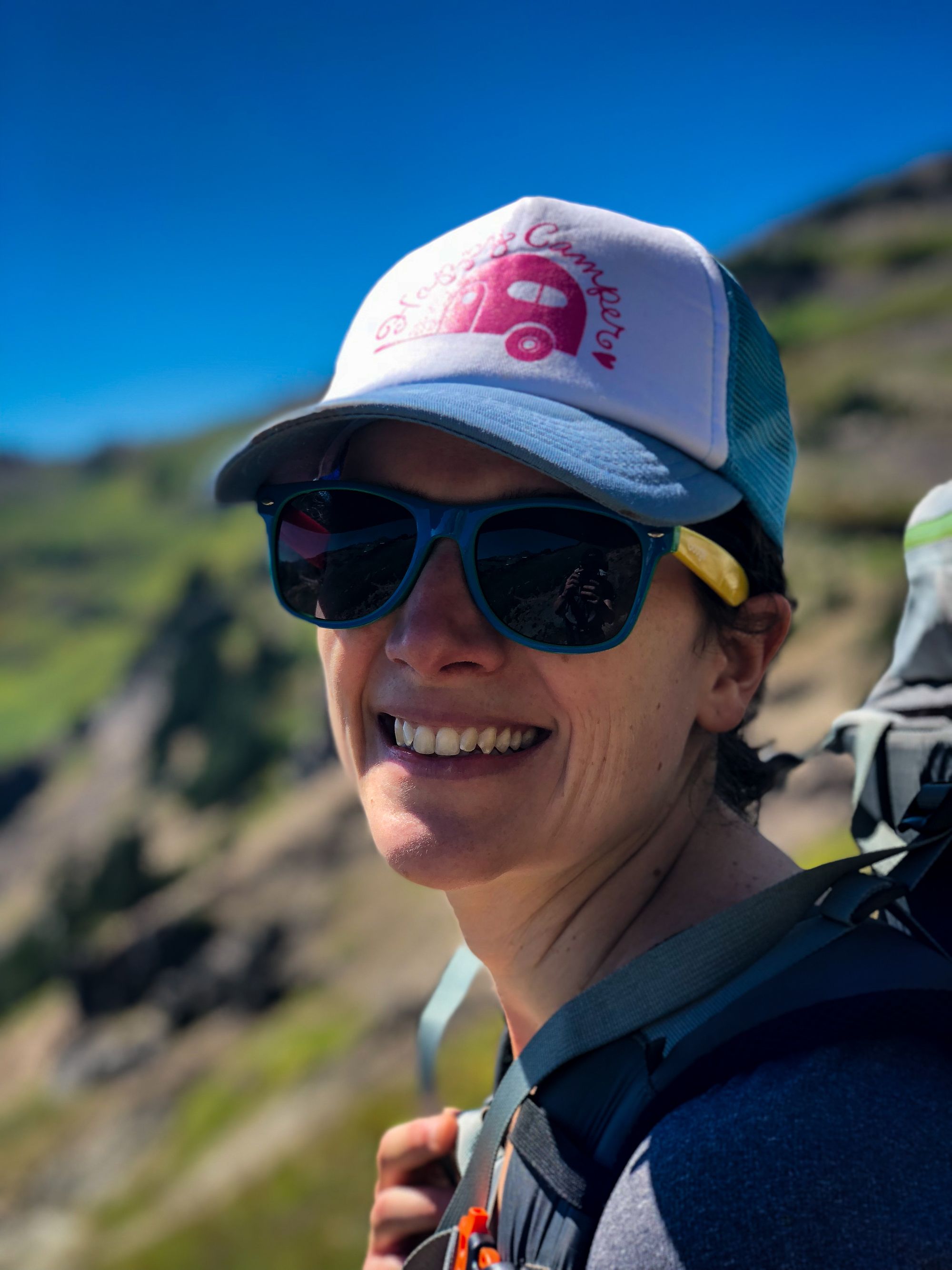 Once we got to the lake, we knew we'd scored. Not only is Goat Lake beautiful, but it has amazing views of Mount Adams as well. The water was cold, but not so bad you couldn't jump in. While the sun was out it was easy enough to dry off.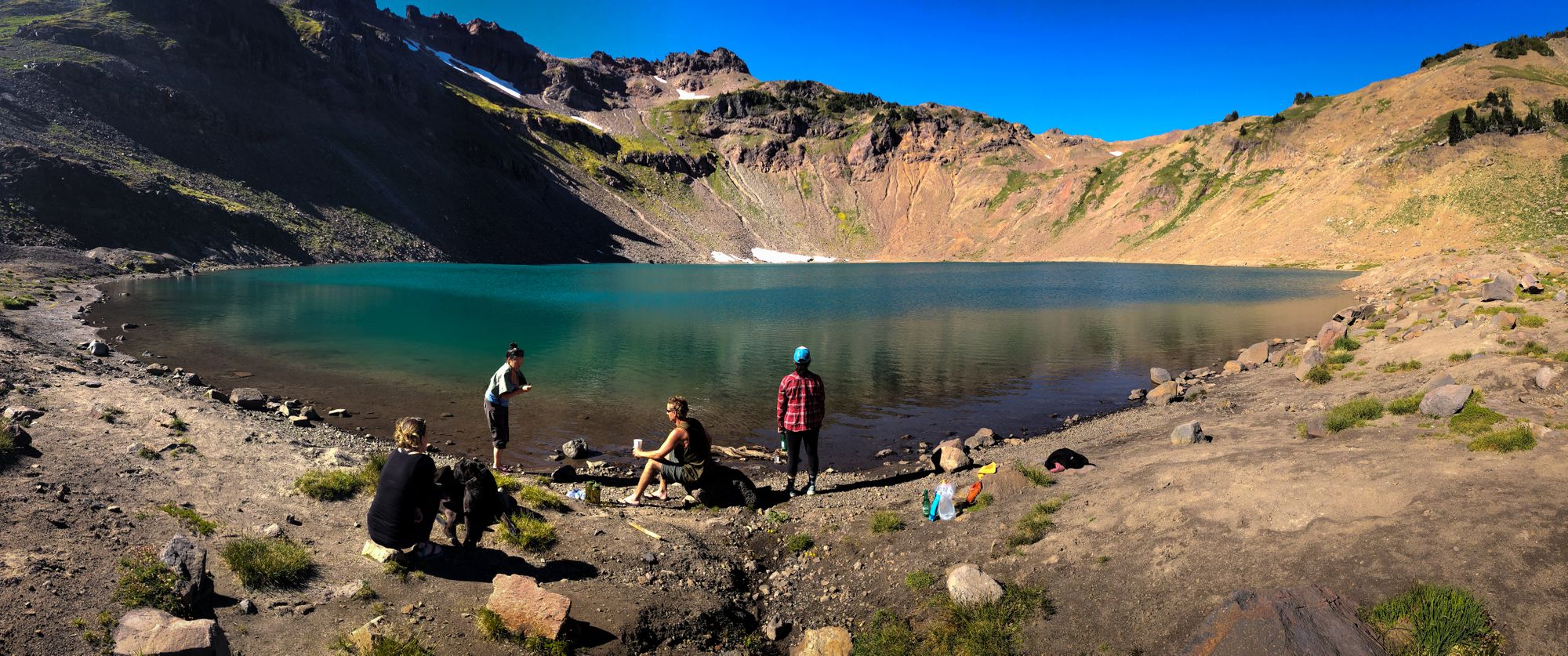 The camp area was a little crowded, but even on the holiday weekend we easily nabbed a primo site with views of both the lake and the mountain. Best of all, the sites aren't on top of each other, so we felt like we were there by ourselves.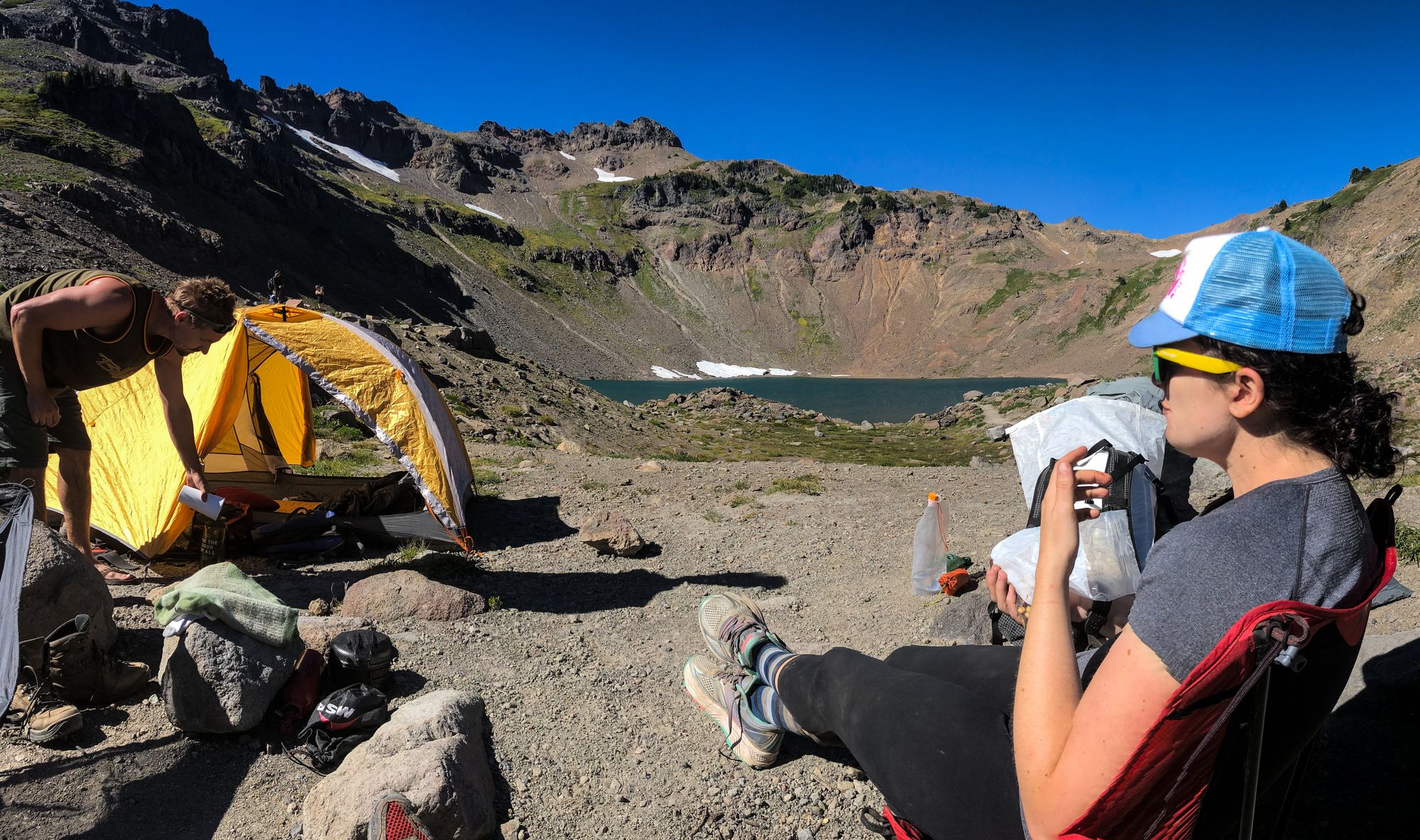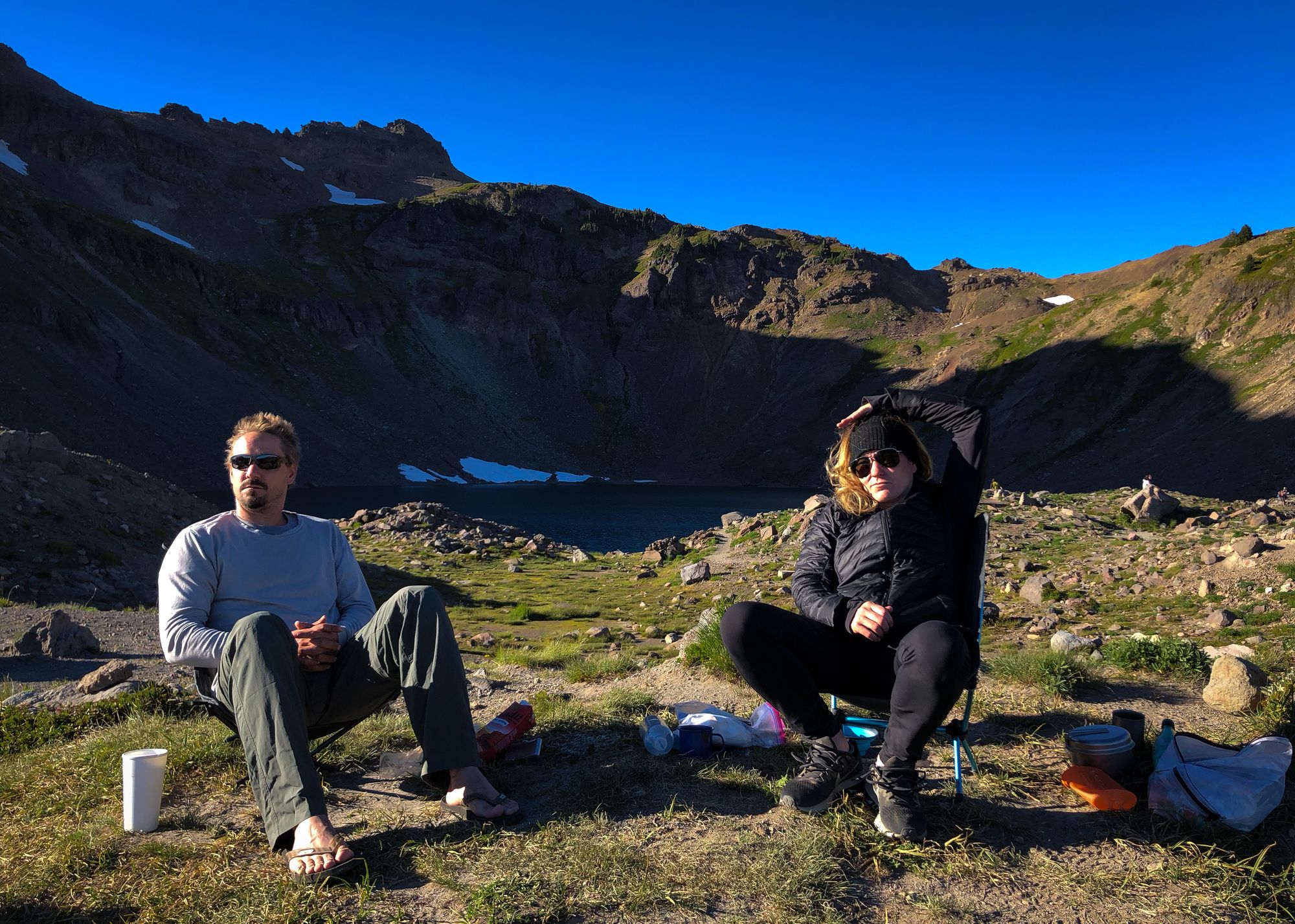 Day 3 - Back home
Monday

6.6 miles

400' ascent

2200' descent

2.4 mph moving speed

2.0 mph net speed
Monday morning we woke up and leisurely struck camp, not wanting to hasten the end of the weekend. Again, we were pretty stoked for our third day of great weather.
The hike out to Goat Ridge from Goat Lake takes you up from the lake, giving great views. From there, the descent onto the ridge is something else.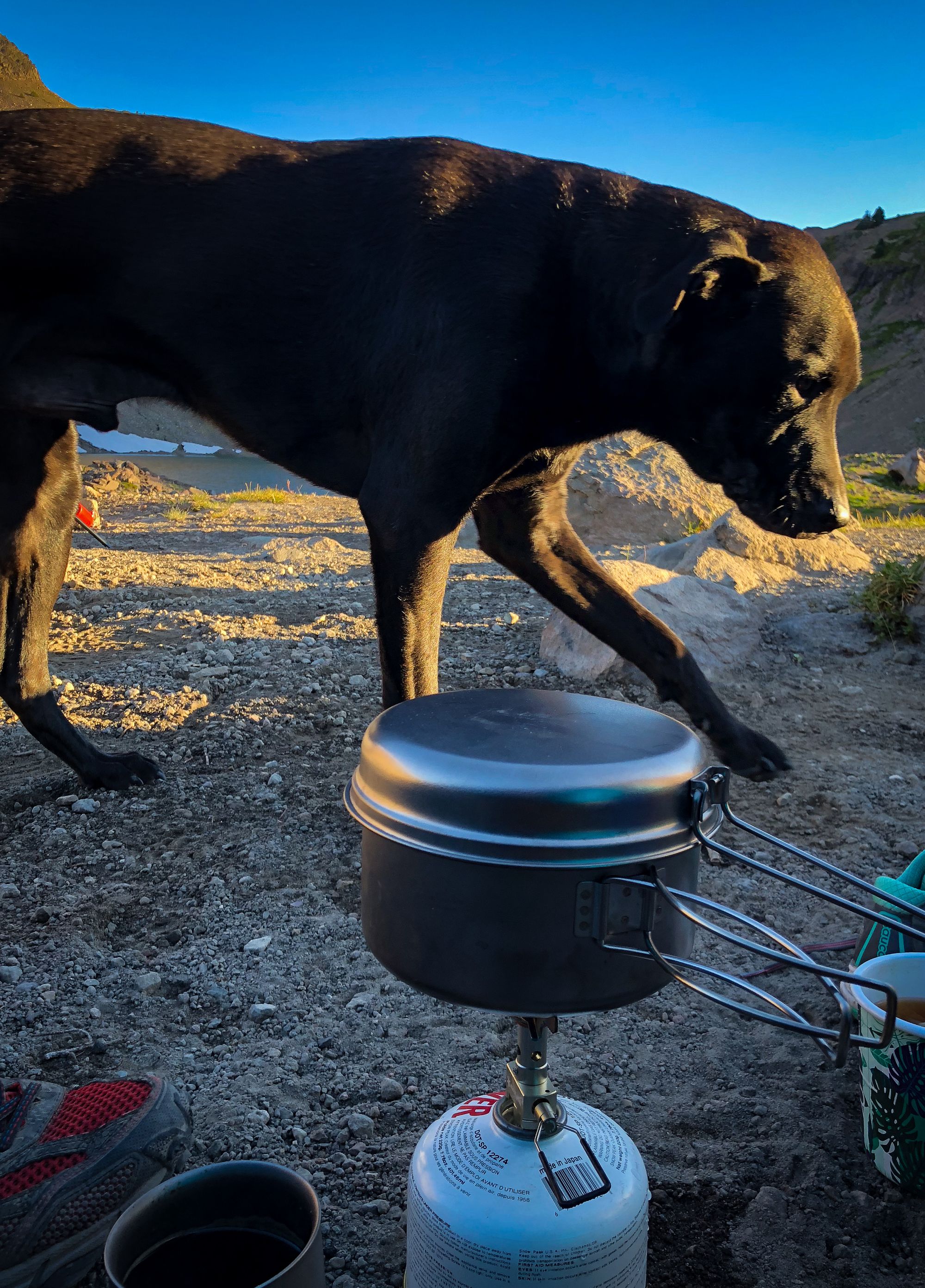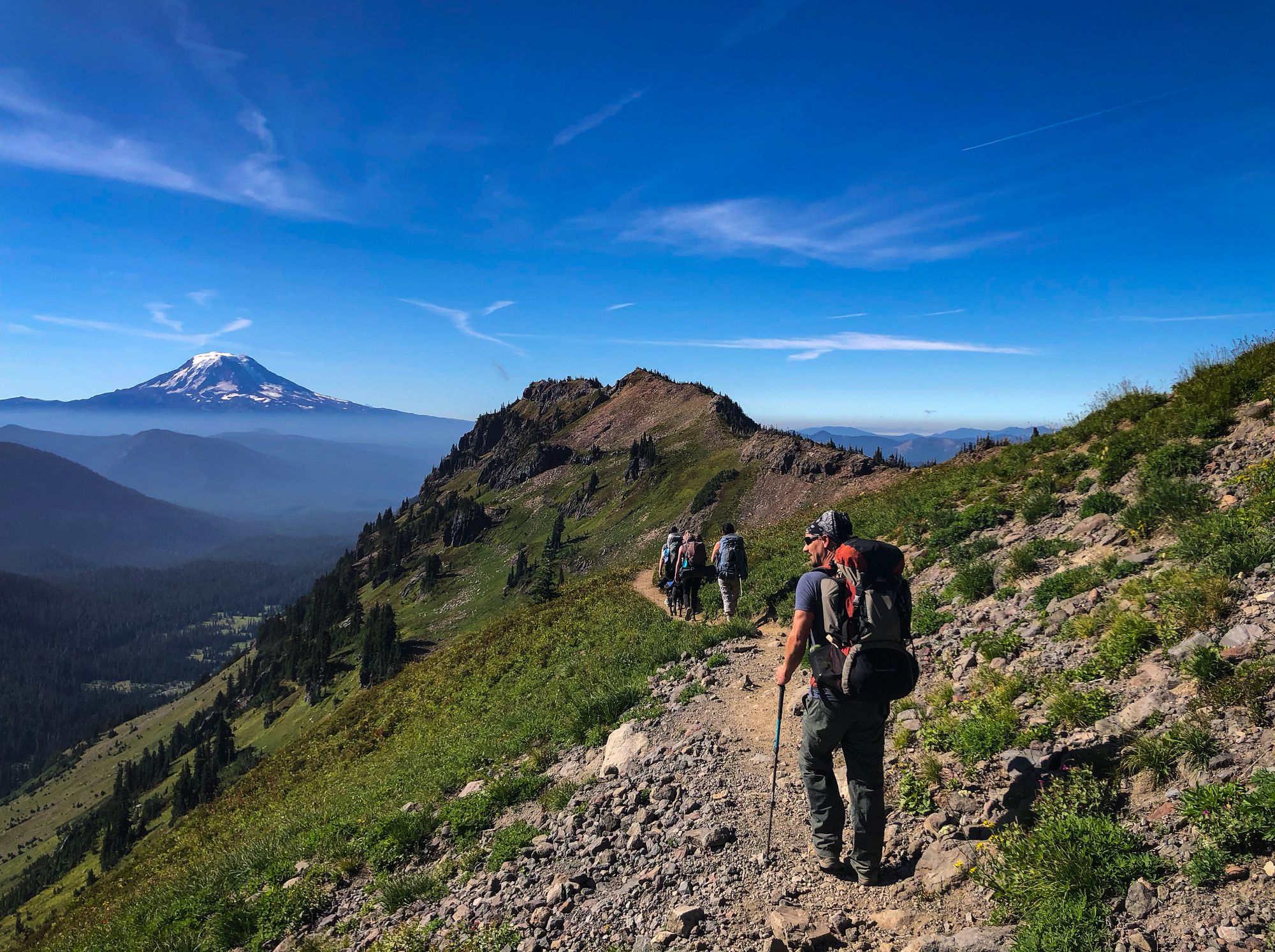 As you get to the ridge you get views of Mount St Helens as well.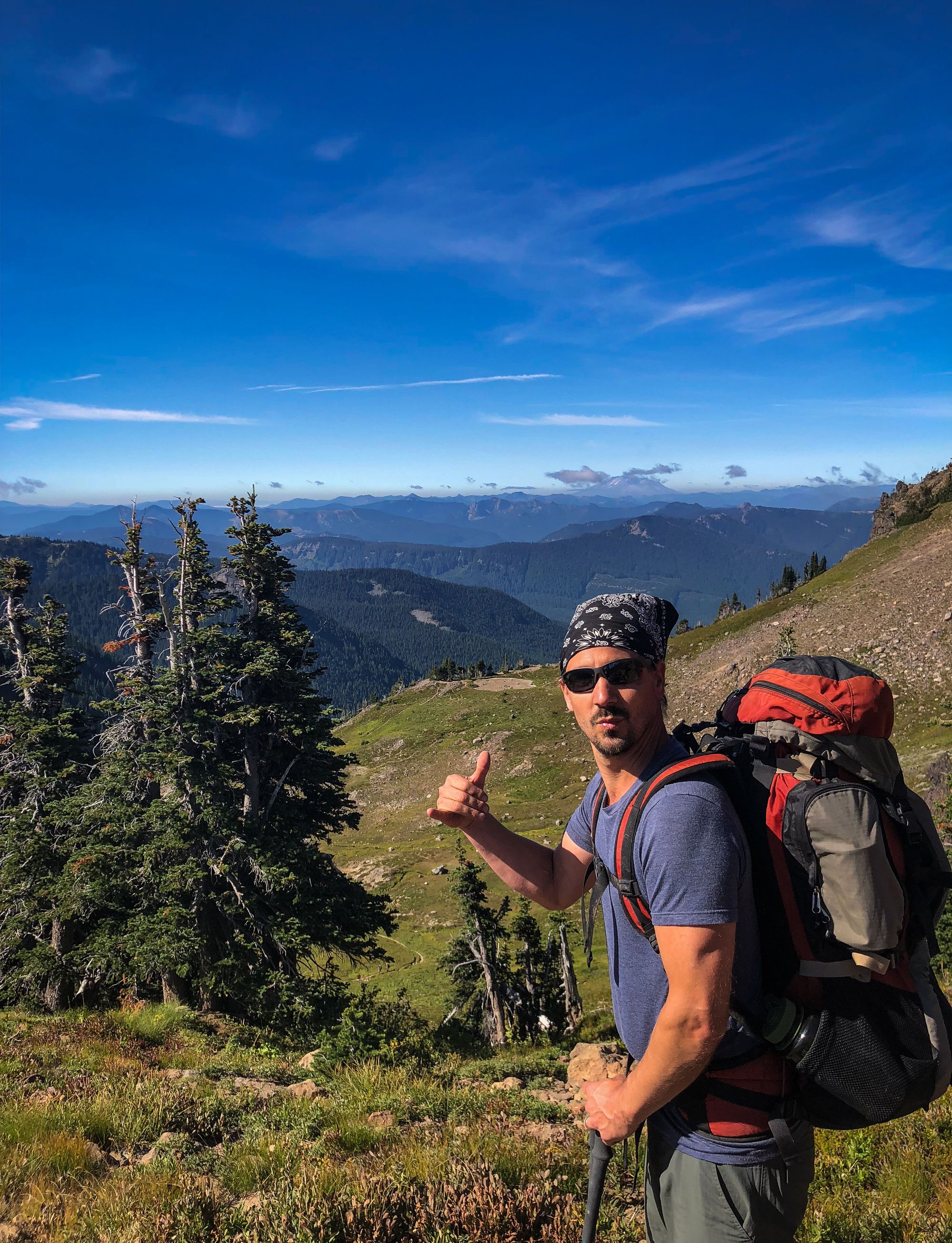 Overall, a great trip. Everyone was stoked. We'll definitely be back.